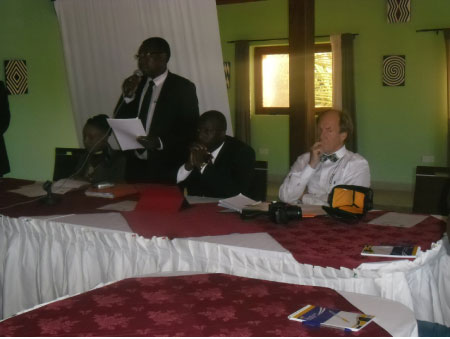 A five-day training course on customer service, marketing and public relations for stakeholders in the tourism industry is under way at the Dunes Resort in Kololi.
The aim of the training session is to primarily address critical variables in the hospitality industry, including quality and consistency of service.
Delivering a statement on behalf of the minister of Tourism and Culture, Fatou Mass Jobe-Njie, the deputy permanent secretary at the ministry, Cordu L Touray-Jobe, said the training course will increase linkage and symbiotic relationship between quality service delivery.
She expressed hope that the forum would enhance the overall efforts to reposition destination Gambia as an internationally-recognized haven, leisure hotspot and trendy destination for tourists of all categories, especially those in the top end bracket.
"I am, therefore, very proud to be associated with this capacity enhancement programme, with the primary objectives amongst others to horn the skills of the top level management cadre, and frontline staff and management of the tourism industry on industry trends, which have a direct bearing on quality and overall service standards," she said.
According to DPS Jobe, the hospitality industry is undergoing a very dynamic transformation, and certain trends have gradually been entrenched at the global level and including acceleration of technological innovations which, no doubt, revolutionizes the day-to-day running of businesses in the tourism industry.
She noted that the explosion in communication technology and the impact of the role of internet in tourism are all essential.
Ms Touray –Jobe added that the ability to succeed and the future performance of tourism and related activities will depend largely upon the skills set, qualities and knowledge that managers will be able to bring to their business in confronting and addressing these challenges.
According to her, tourism indeed has huge potentials to increase government revenue, reduce poverty and create employment opportunities.
"Currently tourism is recognized to be a major economic and social activity in most countries", she went on, adding that "the world's economy has seen unprecedented shocks and turbulence that had affected much of the developed world which impacted negatively on employment and people's welfare," she said.
Lie Mboge, chairman of the Gambia Hotel Association, said this training activity was important to the participants, and told them that the most important area of all is customer service delivery, which is key.
Benjamin Roberts, Director General of the Gambia Tourism Board, also thanked the stakeholders within the tourism industry for their active participation, and Brend Schotz Pum the training expert.
He added that Pum's idea is to help embed training in customer service delivery, adding that at the Gambia Tourism Board the best way to achieve this is to get the training going.
The head of the GTBoard urged the participants to make the best use of the training course.
Read Other Articles In Article (Archive)