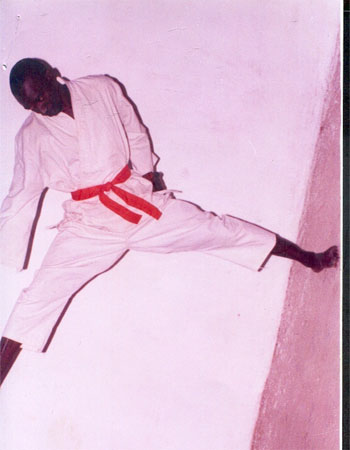 The new Executive Secretary of the National Sports Council, Mr. Alieu Cham, has indicated that he has noted all the claims of the speakers from both sides of the current row brewing in The Gambia Karate Association. He said he will go on with his investigations and finally call the clubs to choose their new executive to run the affairs of the GKF.
He made his statement during the last unsuccessful congress of the Gambia Karate federation. The congress turned out to be a talking forum after some members of the GKF took the floor to defend their voting rights and to explain the root cause of the trouble for the last year.
The members of the Shotokan Karate-Do International (SKI-Gambia), an Association of 17 clubs that are said to be under the GKF, have no voting rights in the federation. This has been the main cause of the trouble of the Federation.
The SKI was founded by the founding father of Karate in The Gambia Mohammed Kaba Musa. He stood to clarify the issue of the SKI saying that it has been part of the federation and has been law abiding for the past five years. His reason for introducing the SKI was because it was only The Gambia that was not practicing it all over the world. And the SKI has being in existence since he was the president of the federation
The former executive is still claiming that they have never acknowledged the existence of the SKI in The Gambia.
The executive secretary of The Gambia Karate Federation, Muhammed Camara, claimed that they have never acknowledged any registration of clubs for the last five years of their term. The clubs they inherited are the only ones they maintained up to now.
Contrary to what they said, Muhammed Danso of the SKI claims that is not true and will make sure that the truth is revealed soon.
Some practitioners of Karate are desperate and blame the executive of being selfish and greedy. They appeal to the SOS for Youths and sports to help solve this problem as they say it is only causing enmity and not benefiting Karate in The Gambia.
Read Other Articles In Article (Archive)