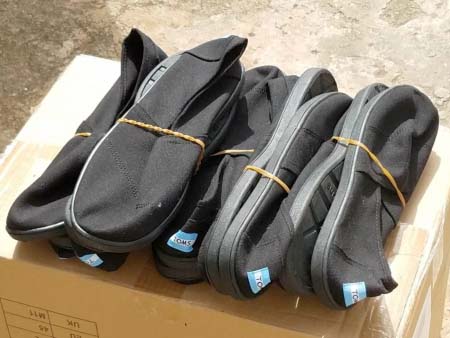 (Monday 21 October 2019 Issue)
ChildFund The Gambia have recently distributed 21, 690 pair of Toms Shoes to its local partners held at the child protection and development agency's main office in Kanifing South.
The three beneficiary local partners; Ding Ding Yiriya, Foni Ding Ding and Saama Kairo Federations were urged by the benefactor to ensure fair distribution of the shoes to reach its intended beneficiaries.
The agency's protection and advocacy specialist Alieu Marr, said the provision of the shoes targets to improve the welfare of children and easy facilitation of their access to healthy and quality education.
He said since ChildFund inception in 1984, the agency has been significantly improving education and health standards of vulnerable children in various communities of its program intervention and other parts of the country where different life improvement assistance such as bed and medical assistance were provided.
"What we want to see is fair distribution of the shoes to their intended beneficiaries. This is because our policy dictates no discrimination in our program interventions. So, we are urging you as our local partners to make sure that the shoes reach their beneficiaries," he said.
Nfamara Darboe, program and sponsorship director and ChildFund acting country director said distribution of the Tom Shoes is not limited within West Coast Region, but students in the Lower River Region also benefited, saying they are not intended for only children but adults too.
He said the intention of the agency in giving out the shoes is to reach 18, 000 children and 90, 000 adults in different parts of the country, saying ChildFund's assistance target to improve the lives of vulnerable children in the areas of health, education and secure infants as one of its program core outcomes.
In his vote of thanks on behalf of the local partners, Manager of Foni Ding Ding Federation Edi Bah, thanked ChildFund for the long standing assistance to its local partners. He assured that there will be a fair distribution of the shoes to intended beneficiaries.
Read Other Articles In Article (Archive)