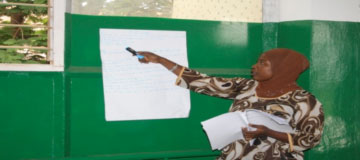 Eleven participants from different sporting disciplines took part in a day CAP Module III course on financial management recently at the 22nd July Square Hall in Banjul.
The daylong course started with an opening ceremony chaired by Wilfred Riley, Secretary General of the association, who said the aim of the course was to get the participants equipped with the knowledge of financial management to be able to execute proper accounting procedure.
Without wasting time, he called on the newly appointed ICC/ACA Africa Regional Director for cricket in Northwest Africa region and also the President of the Association Johnny Gomez, who in his opening remarks told the participants of the significance of the course and how good financial management and proper bookkeeping would help them.
He also said no matter how big or small their association may be it is essential they adopt sensible financial policies and processes.
He also thanked ICC/ACA Africa for their support.
Declaring the course open, Fabakary Touray of the National Sports Council thanked the cricket association for inviting other sporting disciplines and urged the participants to make good use of the course.
He said knowledge gained from the course would enable participants to prepare good budgets, manage, control and give monthly and yearly financial reports of their associations.
Simple finance system, petty cash and journal, budget and how to prepare budget, bank reconciliation, statement of assets and liabilities and balance sheet were some of the subjects studied during the course. 
They were presented by Mr Johnny Gomez certified and accredited ICC/ACA CAP administrator presenter, and assisted by Mr Wilfred R. Riley, administrator and secretary general of the association. 
Read Other Articles In Article (Archive)