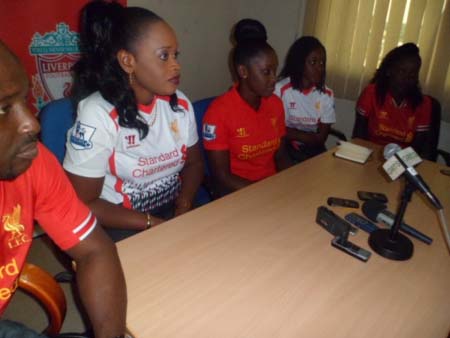 Standard Charted Bank Gambia on Tuesday conveyed a press conference with various media houses at its Kairaba Avenue office on its preparation for the Anfield international five-a-side footballtournament to be hosted in Liverpool.
The press conference was held to brief the media, participants and customers on the logistics and modalities of the event as the date for the registration of teams for the qualification process of the two-day tournament draws closer.
According to the bank's officials in charge of the process, the qualifying participants will be those who will have opened an account with D5,000 and above before the event or have a deposit of D10,000 and above in their existing accounts with the bank.
Speaking at the press conference, Awa Loum-Njie, Head of Corporate Affairs, thanked the media for responding to their call, saying the event is done in the best interest of the public.
She said the press briefing was especially held to inform their customers about the preparation of the knockout tournament and the registration that will be held at the FatherGough Sports Complex in Manjai Kundaon 18 January.
The tournament, she said, will also be held on the same venue on 15 and 16 February this year.
According to her, the winner of the tournament will represent the bank at the home of Liverpool Football Club in England in May this year, where thirteen other teams from various countries will come together for a two-day tournament.
She also noted that qualified customers are urged to come with their identification for the registration.
Madam Njie further stated that the other aim of the tournament, aside from the chance to participate in the tournament to be hosted by Liverpool, one of England's most celebrated clubs, is to create an enabling and interactive environment with their customers.
For her part, Oleymatou Dambel Faal, Corporate AffairsOfficer at the bank, explained that the competition is restrictedfrom nawetan, divisional and internationalplayers, saying any institution or individuals found culpable will be penalized and get disqualified from the competition.
The competition, which will be played five-a-side (that is, five players to a team), will be given only eight minutes, she stated.
Read Other Articles In Article (Archive)