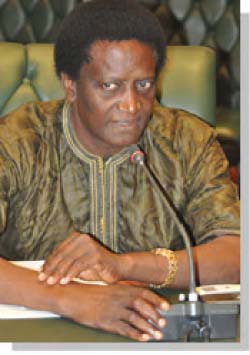 Senior magistrates and judges are attending a three-day workshop on Continuing Judicial Education Institute of The Gambia.
Held at the Paradise Suites Hotel in Kololi, the workshop aimed at equipping judicial officers for effective service delivery. Senior government officials from the Ministry of Justice were also present at the workshop.
In his opening remarks on the occasion, Hon. Edward Gomez, Attorney- General and Minister of Justice, said that in the administration of justice, judicial officers play a vital role in boosting the confidence of the people in the system.
"A judicial officer (which includes a Magistrate) is a man called upon by the Constitution and his country to play god over his fellowmen. The way he portrays himself to the public will influence to a large extent the views of the people about the justice system he represents," the Justice Minister says.
Minister Gomez explained that the Judiciary is the last hope of the common man. "It is an arena where the same rule applies to all irrespective of differences in social, intellectual, economic or religious standing," he said.
The Justice Minister went further to explain that a loss of public confidence in the judiciary will take our society centuries back to the days when life is, according to John Hobbes, short, nasty and brutish. According to him, the state appoints judges and expects them to perform their functions effectively to the best of their ability.
"These responsibilities can only be performed where the basic necessities required for their performance are made available," he said.
"Towards a dedicated and vibrant judiciary, The Gambian Judiciary has what it takes to be best in the world as it parades some of the best jurists in the world," he said.
Hon. Justice Gibril Semega-Janneh, Chairperson (CRG) ofJ.S.C, said the occasion marked an important milestone in the annals of judicial development in The Gambia.
He said the judiciary had in the past carried out "Continuing Judicial" training for legal officers but these were ad-hoc and unstructured.
The institute, as envisaged, is to be a permanent body entrusted with the task of conceptualizing and preparing training programmes for both old and new intakes of judicial officers.
Ousman Jammeh, Secretary-General and Head of the Civil Service, says training is all about moving from the unknown to the known.
"In this modern era, legal capacity building is of paramount importance if we are to meet the MDG goals and Vision 2020," he said.
Read Other Articles In Article (Archive)