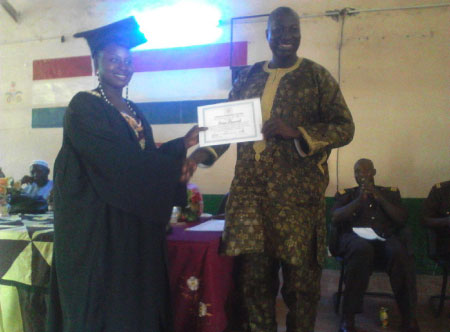 A graduation ceremony of no fewer than 37 students of Conscience International District, West Coast Region, was held on 18 July 2012 at Tanji Youth Centre.
The ceremony brought together local authorities and a cross-section of the community, who showed their appreciations to the graduands and staff and volunteers of the centre.
Speaking at the ceremony, Fatou Sanyang, deputy governor of West Coast Region, hailed Conscience International for their foresight in supporting the youths of Tanji by giving them skills that will make them become self-reliant in life.
She said Conscience International is complementing the government's efforts in providing marketable skills for Gambian youths, thus empowering them to become self-reliant.
To her, impacting knowledge to someone is not an easy task but their lecturers have been working effectively to ensure that all what they require during the three-month course is made available by giving them their utmost best in terms of quality education.
She commended the chief, the alkalo and the community of Tanji for supporting Conscience International to have a successful training.
For his part, Shaka Ceesay, director of Conscience International, said the idea of The Gambia having Conscience International branch came as a result of a capacity building training conducted in Tanji in 2009 on gender-based violence and it was recommended by the community of the village that they would need ICT and sexuality education training facility or centre to teach youths and adolescent girls on such areas.
According to him, since then they have been making arrangement and contacts to ensure  they provide a learning centre for the youths of Tanji to acquire skills that would make them self-reliant in life.
He said: "This is the first batch of students graduating today after they have undergone vigorous and intensive practical and theoretical aspects of information and communication technology and sexuality education, and are exposed to all aspects of the course that has prepared them well in those areas."
Mr Ceesay advised the graduands to serve as ambassadors of the institutions and must know that their actions and behaviours will represent or give an image of the institution.
He commended the Gambia government for creating an environment conducive for Conscience International to operate effectively.
Cyril Mbaegbu, IT analyst of Conscience International, commended the people of Janji and the dignitaries present for their immense support to the institution in realizing the training.
According to him, the graduands have been able to overcome beginner level in computer application skills during this period of time as well as undergone series of assessments and examinations to determine their level of understanding and competency in all the subjects.
He appealed to parents and guardians to enroll their children and ensure they be part of the coming semester, the training of which is free of charge since it is being supported by UN-HABITAT as a pilot project in The Gambia.
In ICT, the students were taught and trained on how to create folders, file management in Microsoft windows, internet browsing, word processing, as well as develop reports, among other tasks.
Read Other Articles In Article (Archive)