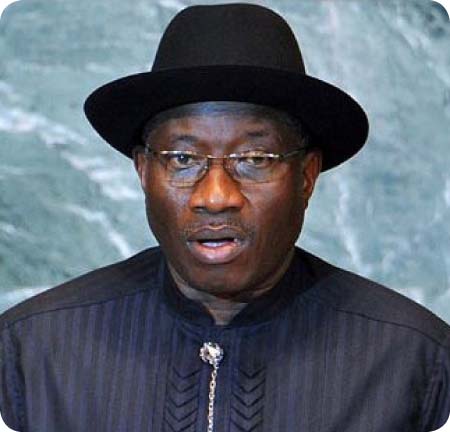 The centenary conference on the theme: "Human Security, Peace and Development: Agenda for the 21st Century" held in Abuja on 27 February 2014 to celebrate the 100 years of the Nigerian nation, also provided an opportunity "for profound reflection on our challenges and opportunities as a continent". This is contained in the speech delivered by President Goodluck Ebele Jonathan at the conference. Jonathan's statement follows:
"Your Excellencies, only one year ago, in Addis Ababa, Ethiopia, Africa celebrated 50 years of the establishment of the Organization of African Unity, now the African Union. On that occasion, African leaders reflected on our history and on the state of our union and we re-committed ourselves to building a new Africa, which will usher in greater peace, security and prosperity for our peoples...
"As a nation, whose fate and destiny are inextricably linked to that of the continent, Nigeria recognizes the opportunity of the moment, and particularly, that this is the place and time to reflect on this theme of our centenary conference, Human Security, Peace and Development: An Agenda for the 21st Century.
"There is no doubt that Africa is rising. Today, seven of the fastest growing economies in the world are in Africa. Investment in the continent by Africans in the Diaspora bears testimony to the increased level of confidence in our continent. The rising middle class and greater penetration of Information and Communications Technologies, combined with a fast expanding financial services sector, are all pointers to a better future. But we must secure this bright future. To do so, we must seriously address the issues of human security, peace and development.
"Your Excellencies, as you well know, the issues of human security and peace are indispensable in the life of every nation. For far too long, in many parts of the world, especially in our continent, governments had placed much emphasis on the security of the state, and our very scarce resources were committed to military and regime security, at the expense of human security.
"We recognize human security as encompassing firm guarantees for human rights and good governance, that translate into expanded opportunities for economic security, food security, health and education security, environmental security, and personal and community security. A firm commitment to human security holds the promise of an end to persistent conflicts, insecurity, poverty, disease, terrorism and other scourges that undermine the attainment of our dreams.
"We must emphasize that human security and peace are intertwined. Peace is not just the absence of violence or war. Peace encompasses every aspect of social tranquillity and wellbeing. The peace we strive for is a state marked by the absence of severe human want and avoidable fear. In our lifetime, this peace is attainable, in our nations and our continent. However, Your Excellencies, we must strengthen existing mechanisms for national and international conflict management, and create new avenues for cooperation, within and between our peoples and our Nations.
"Your Excellencies and dear friends, I firmly share the view that if we stay focused and work together, we can make this 21st century, the African century. A century where all our children will have enough to eat; a century where all our children will be in school; a century where economic growth and prosperity touches all, regardless of gender, economic, political status, ethnic or religious affinity. For this to be achieved, our development must be people-centred, people-driven and anchored on human security.
"Your Excellencies, the current state of human security, peace and development in our dear continent presents a picture of hope as well as challenges. For over a decade, Africa has consolidated on its democracy, and many countries have exited military dictatorship. There is now a heightened commitment to the tenets of good governance, and the rule of law.
"Nigeria has always sought security, peace and development. We are steadily developing a strong and vibrant democracy. There is enthusiastic participation across the Nation, with a purposeful government and active opposition parties. This was clearly expressed in the last national elections held in 2011, which received wide national and international acclaim, and was adjudged the freest and fairest ever in our nation's history.
"But as our nations grow, and as Africa grows, we must address some fundamental challenges to our human security, peace and development. Terrorism, which is a global menace, has extended its tentacles to Africa and Nigeria. In concert with our regional and global partners, we will continue to respond strategically and decisively to this scourge, and together with our people we shall end the killings and bring terrorism to an end.
"Your Excellencies, let us work together across boundaries, not only to coordinate and strengthen our defences, but also to address any socio-economic roots on which these extreme ideologies thrive. Terrorism must be condemned in the strongest possible terms. We all must work together, collectively, to rid our world of haters of peace, who use terror to maim, kill, instil fear and deny people their rights to peace and security. The Boko Haram insurgency in Nigeria is one of such condemnable acts of terror. We have continued to deploy human and military intelligence, in close collaboration with our partners, to bring an end to their nefarious activities. Greater regional cooperation in intelligence gathering and control of insurgents will ensure not only Nigeria's security, but also the security of our neighbours.
"A great threat to our collective human and national security is the rising menace of the use of small arms and light weapons. Out of the 500 million illegal small arms and light weapons in the world, an estimated 100 million are in Africa, with 10% in West Africa, mainly in the hands of non-state actors. Africa has had enough of wars. And the cost of wars and insurgencies are too high. It has been estimated that Africa loses 18 billion dollars per year from wars as well as insurgencies. Wars, insurgencies and conflicts impact neighbouring countries even more, due to displacement of refugees, illegal trafficking of arms and disruption of economic activities.
"When there are wars or conflicts, we all lose. When there is peace, we all win. We must deepen our resolve to regulate the illicit trade in small arms and light weapons, strengthen our enforcement of the regional protocols, such as the Economic Community of West African States (ECOWAS) Convention on Small Arms and Light Weapons, Their Ammunition and Related Materials; and the Nairobi Protocol for the Prevention, Control, and Reduction of Small Arms and Light Weapons in the Great Lakes Region and the Horn of Africa. We must do more to reduce some of the drivers of growth in illicit small arms, including human insecurity, inequalities, marginalization, ineffective disarmament, social exclusion and the culture of violence.
"Africa faces a huge challenge with youth population bulge. By 2050, it is projected that about 40% of the population of Africa will be made up of young people below the age of 15 years, while about 60% of the population will be made up of young people below the age of 25 years.
"A major concern is the high level of unemployment among the youth, especially those that are educated and skilled. No priority for human security is more important for African countries than a sharp focus on creating jobs for this teeming youth population. Skills acquisition, entrepreneurship development, encouraging the youth to go into agriculture as a business, and providing them with access to cheaper financing to fulfil their dreams, are all needed to harness and unleash the power of our youth to secure our collective future.
"To foster this, we need to further strengthen intra-Africa trade to create jobs. Africa must add value to its primary products and commodities to ensure that wealth is created on the continent. This will create wider scope for prosperity for our populations.
"We must address the issue of inequality. There is no doubt that Africa is growing and our economies are among some of the fastest growing in the world. But this growth is not creating enough impacts in terms of improving the living standards of our people. We need inclusive growth that can stimulate broader shared prosperity among our citizens. Social policies that improve access to food, water, housing and education are crucial for inclusive growth and social participation. We must address the challenges of climate change.
"While Africa accounts for less than three percent of greenhouse emissions, it bears the greater brunt of the negative impacts of climate change. Increasing incidences of floods and droughts create vulnerabilities, displace populations and threaten human security.
"The Africa Risk Capacity, the Specialized Agency of the African Union, has a major role to play in reducing the impacts of climate change on farmers, pastoralists, food security and budgets of governments as they address the challenges imposed by extreme weather events and natural disasters.
"Africa must address the issue of women empowerment to improve human security. When there are wars and social conflicts, women and children bear the brunt of it. So, when we have peace and stability, women and children should be those who benefit the most.
"That is why I am calling today for an Affirmative Finance Action for Women. Under this action, banks should devote at least thirty percent of their bank lending in Agriculture to women farmers and women-owned agribusinesses. The evidence is clear that women rarely default on loans. This purposeful focus on women must become our priority for the post-2015 MDGs. Securing women's future will secure Africa's future.
"This brighter future can only occur, if we improve governance and accountability systems. We must reduce the cost of governance and increase more of the national resources on the governed. In particular, we need to reduce the cost of elections and electioneering and shift greater focus on ensuring that the dividends of democracy are delivered to our peoples.
"But democracy alone is not enough. We must remain vigilant and look into our peculiar situation in Africa and identify critical factors that belies the extremism and terrorism that threatens our collective security. The enemies of the state today in Africa are often faceless, driven by religious extremism, ethnic mistrust and rivalries, and propagandas of hate. Their nefarious actions are not limited to any single country and no one is immune.
"Therefore, as leaders we also must change our approach and work more closely together to confront and defeat terrorists and purveyors of hate. Terrorists do not respect borders or boundaries. While we respect our national boundaries, terrorists move in and out of our borders. It is now time that we agreed as African leaders that acts of terror against one nation is an act of terror against all.
"We must not allow our countries to become safe havens for terrorists. We must cooperate maximally in better managing our political boundaries. We should adopt protocols that allow countries to pursue terrorists well into their safe havens in other nations. While we cannot redefine our borders, we must re-define our collective approach to ending trans-boundary terrorism and insurgencies.
"Your Excellencies, the African Union Peer Review Mechanism needs to pay greater attention to the issues of human security, peace and development. To promote this, I wish to propose the development of an African Human Security Index that helps us to measure the progress we are making on these and other critical issues in Africa, as shaped by African countries themselves.
"What Africa needs more than anything else in this 21st century therefore is collective action for positive transformation for the good of Africa. There is no doubt that this is the African century. That is why I want to call on other African leaders to join me in seeking new ways to achieve our goals together, new strategies and workable solutions that advance our cause for peace and development.
"Let us work towards an Africa, where economic growth leads to jobs for all school leavers, regardless of their ethnicity, their religion, or their gender. Let us work towards an Africa where we all live free from the fear of war and terrorism, and where young Africans see a future for themselves in productive employment, enterprise and education, and not in the false promises of extremist ideology.
"We must work towards an Africa in which human security is a priority for all governments, where genuine and lasting peace makes it possible to achieve, and where economic development works for the benefit of all. It is that Africa of peace, of equity and justice that I crave and it is that Africa that seeks and secures democracy, the democracy that guarantees human happiness.
"Your Excellencies, distinguished ladies and gentlemen, the past is behind us and the future beacons on us. As leaders, we must build a future Africa that generations yet unborn will be happy we bequeathed to them. This must be an Africa devoid of wars and conflicts. An Africa where there are no borders. An Africa where there is free movement of people, goods and services. An Africa that is full of boundless opportunities. To this new Africa we must commit ourselves.
Long live Africa, Long live Nigeria".
Read Other Articles In Article (Archive)