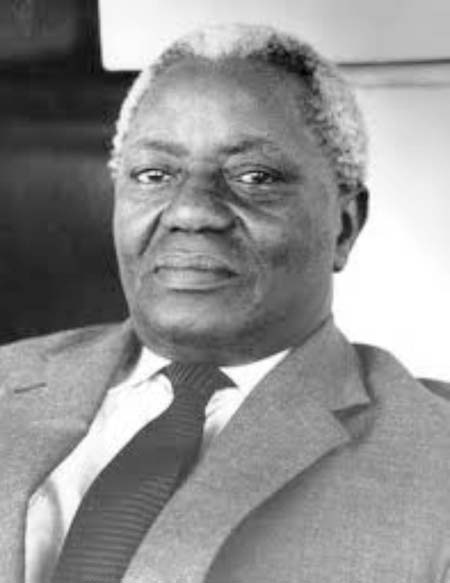 (Tuesday 21st April 2020 Issue)
Excerpts from the Preface

Dr. J. B. Danquah, dubbed "the doyen of Ghanaian nationalism" almost epitomizes the fate of post-colonial Africa. Exuberant and full of ideas, he first got into trouble with government as one of the Big Six arrested by the colonial authorities after the Accra riots of 1948. Elected to the Legislative Assembly in 1951, he failed to get re-elected in 1954 and 1956. In 1960, he took the courageous decision to contest the presidency against Kwame Nkrumah and lost. In 1961, he was first arrested under the Preventive Detention Act (PDA), 1958. The PDA was enacted barely ayear after Ghana attained independence in March 1957, and gave Prime Minister, later President Nkrumah the power to have anyone arrested and detained for up to five years, later increased to seven, upon suspicion of posing a threat "to the security of the state."

Released in 1962 after a series of petitions to the government, J. B. Danquah was re-arrested under the same PDA in January 1964. As he describes them, the grounds for his detention were at best spurious. He died in his cell at what was called "the Special Block" at Nsawam prisons, after writing a series of petitions that went totally unheeded. . . .
The prison letters of Dr. J. B. Danquah are a painful plea for sanity, a plea for reason and humaneness. A cry of wonder at how humans could be so unbelievably unreasonable and in some cases, deliberately cruel to their fellow human beings. In the name of what, he silently wonders as he delivers protest after protest at the injustice of his incarceration. Throughout his incarceration at Nsawam and Usher Fort prisons, Danquah remains defiant and painstakingly argues his case, like the brilliant lawyer he was, convinced in the righteousness of his cause, strengthened by the knowledge of his innocence. . . . In the end, he literally drops dead from a standing position in his cell at Nsawam prisons.
Dr. J. B. Danquah was a lawyer, but above everything else, he was a great philosopher. His letters from prison are rendered in the voice of a cultured man of God who, because he sees so much beauty in the reality of Ghanaian life and society, feels so much pain in the absurdity of his extrajudicial incarceration, in the fickleness of the human mind under the influence of power and privilege. He extols the beauty of the Ghanaian spirit, and affirms again and again, the absolute centrality of man, of humanity, and of "man's permanent motive forces and commitments" to God, to family, and "to the dignity of man as man". To read Danquah's letters is to undertake an odyssey into the depths of human nature through the mind of a great African philosopher whose traces it will be impossible to obliterate.
In petition after petition, Danquah resolutely demands respect for the Ghanaian constitution and the rule of law. He sounds flabbergasted that the Ghanaian constitution and the laws of the land, at least in so far as they guaranteed the rights of citizens were ignored and abused with such reckless abandon. He mobilizes the forces of history and the law, and invokes the beauty of and righteousness of what he calls the "Ghanaistic" outlook on life to wage a relentless losing battle against Nkrumah's Preventive Detention Act, 1958. From the extremely uncomfortable confines of his prison cells at both Nsawam and Usher Fort, Danquah unleashes volley after volley of brilliant legal, philosophical and religious arguments against the blatant injustices of the Preventive Detention Act.
The Prison Letters of Dr. J. B. Danquah is available at Timbooktoo Bookshop. Because they are not opening regularly, interested persons should please email timbooktoo@timbooktoo.gm or call 993 5915 or 449 4345.
Read Other Articles In Article (Archive)