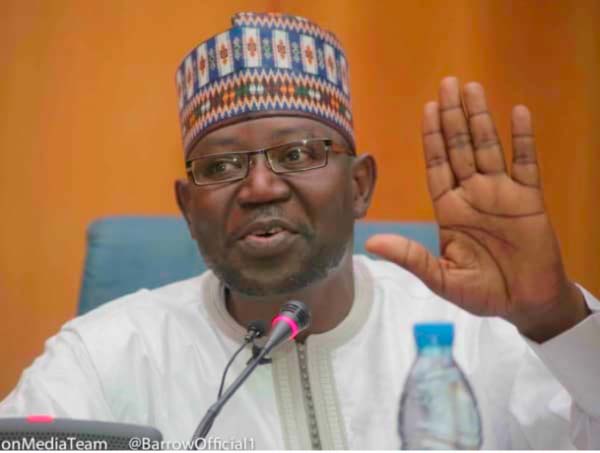 Interior Minister Mai Ahmad Fatty on Monday vowed to institute broad reform of the prison system, as he made an inspection visit of the country's maximum security detention facility, called Mile 2 Prison located just outside Banjul.

Fatty who was in the company of Justice Minister Aboubacarr Tambedou, told on-the-spot journalists he was at the facility to take a firsthand look, and to listen to the concerns of the inmates.
He said: "I'm here to speak to them directly and hear from them… Prison reform is topmost on my agenda. We have to make sure people who are entrusted to us through the judicial system are properly looked after, and we must comply with the law.
"I have seen the cells, and I must say that I'm very unhappy with the conditions I have found. I'm sure we can do better. I know the officers are doing their best, but there is room for improvement. I will make my general assessment after I have visited all the facilities throughout the country."
Fatty said the rule of law, particularly the protection of the fundamental rights of the citizen, "must be at the very core of our prison and detention facilities. That is something I would ensure happens."
He added: "Prisoners are Gambians and non-Gambians, but they are also human beings. And so they should be treated humanely."
The Interior Minister said The Gambia is a signatory to many international conventions and protocols, which obliged the country not to engage in any dehumanizing and degrading treatment of prisoners.
He continued: "I've heard instances where prisoners said they were allegedly beaten. I think this is a situation that we cannot accept. When prisoners commit crime, there is the Prisons Act and there are laws to exercise our rights and authorities. I will declare here that we cannot accept such things. As at now, these are allegations, but we will investigate.
"We're going to be critically looking at the circumstances of our prisoners so that we can improve it; not only to focus on the punishment element, but also to see how we can rehabilitate and reform them so that they can become responsible citizens when they go out.
"Our concept of penal servitude is going to change radically. We're going to focus on giving them skills and training and education, especially juvenile prisoners, so that when they go out, they will have a profession or a type of decent life so that they will not resort to crime. Every prisoner has a potential to be reformed, and so we want to focus on that.
"I would like to thank the prisons officers because I know of all the agencies under my ministry, they are the least paid. The work that they perform is so significant to the nation that we also are going to look into their conditions, so that they can also have a quality life."
Meanwhile, some of the convicted and condemned inmates called on the government to improve the conditions in the prisons. They said inadequate sanitation, food, water, as well as torture are rife in the country's prisons.
Read Other Articles In Article (Archive)