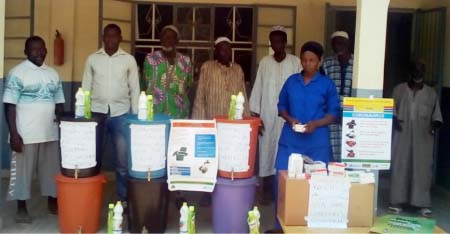 Concerned Citizens of Jokadou Bakang on Saturday donated sanitary items and medicine to the village and its health clinic.

The sanitary items which include buckets, sanitizers, detergent and bleach were donated by Famara Sonko Fofana while Bakang Youth Development Association donated boxes of paracetamol syrup.
The gesture was part of ongoing global and national efforts to prevent and contain the spread of the covid-19.
The youth association in collaboration with the Village Development Committee also sensitized the community on the prevention and transmission of covid-19.
Ansumana Jarju, Secretary General of Bakang Youth Development Association explained that the buckets will be placed in strategic locations within the village to support sanitary conditions within the community.
Mr Jarju called on all to maintain the observance of the recommended WHO and Ministry of Health preventive measures. He thanked Mr Fofana who he said has expressed his readiness to continue supporting the community.
Karamba Jarju, Bakang Youth Development Association chairman highlighted that covid-19 is real and therefore urged all to take it seriously and to adhere to the WHO and Ministry of Health guidelines in order to eliminate the pandemic in the country and the world at large.
He urged people to put their political differences aside and work together in the fight against the disease.
Fatoumatta B. Touray, community health nurse Midwife at Bakang health clinic reminded the people of the community that prevention is better than cure and advised them to observe the recommended WHO guidelines at all times. She said coronavirus is worse than HIV and Ebola as there is no cure for it yet.
Alkalo Mbemba Jarju said his village has been adhering to the recommended guidelines and the donated materials will further boost their preventive measures as communities surrounding them frequently visit the clinic for medical attention.
He hailed and thanked Mr Fofana for his numerous supports towards the community over the years. He however appealed for government to provide an ambulance to the clinic and drugs, saying the clinic is run by the community since its handing over years ago by the philanthropists who constructed it.
Sally Camara, a traditional birth attendant at the clinic and Mama Jammeh both urged people to avoid gatherings, clean their environment, regularly wash their hands, avoid shaking hands, cover their mouths when sneezing or coughing and to maintain closure of all Mosques and churches.
Lamin Kumba Jarju, Village Development Committee chairman commended doctors and nurses of the community for their efforts towards the village and its surroundings since the outbreak of the disease.
Imam Lamin Mulung Jarju said the disease knows no boundary and therefore urged all to protect themselves as no one knows who might be infected.
Read Other Articles In Article (Archive)