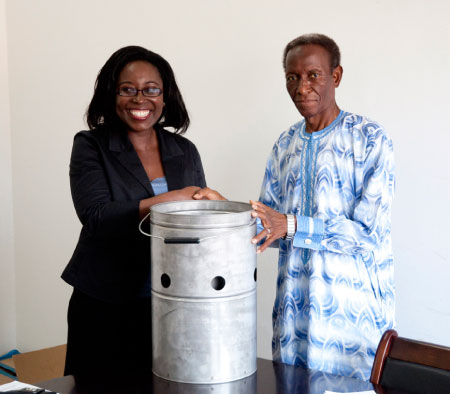 As part of Concern Universal's ongoing project, funded by the World Bank, "Efficient Stoves and Biomass Briquettes", a small consignment of fuel efficient stoves, especially designed for The Gambia context has arrived to be tested in a number of selected households.
The Gambia Technical Training Institute (GTTI) is collaborating with Concern Universal as manufacturing partner to produce a large number of stove parts and carry out the final assembling for 500 stoves as a limited roll-out later this year.
A delegation from the World Bank arrived in The Gambia for a short visit and presented one of the stoves as a prototype to the GTTI last Friday.
According to officials, last December, Concern Universal (CU) and GTTI signed a joint Memorandum of Understanding (MoU) to underline a common commitment to the building of skills and technical capacity to increase employment opportunities across The Gambia.
Furthermore, the MoU will also provide a basis upon which to take forward an initiative of mutual interest to explore the manufacture and marketing of fuel-efficient stoves in The Gambia.
Speaking at the presentation ceremony held at the Institute's conference room in Jeshwang, Director General of the GTTI Abdoulie Loum, commented: "We welcome this opportunity to play an important part in bringing new and appropriate technology to The Gambia."
"Initiatives like this show the importance of collaboration between development partners on all levels and we feel confident that this new stove can bring multiple and diverse benefits to the Gambian economy on a sustainable level," he said.
For her part, the Task Team Leader for the Biomass Energy Initiative for Africa (BEIA) at the World Bank, Juliet Pumpuni, who is on a visit to The Gambia, on a fact finding mission commented, said the BEIA pilot programme across nine sub-Saharan African countries exploring alternative environmental technologies is of global significance because lessons learned here will be replicated across many nations in the future. 
Madam Pumpuni added that she is proud and delighted to have arrived in The Gambia at such an opportune moment to be able to present to the GTTI the prototype stove and called on all stakeholders to support the initiative to ensure that in the not to distant future The Gambia as a nation can turn this pilot project into a thriving, self sustaining and successful commercial enterprise.'
She said further: "It forms part of a pilot project funded by the World Bank and implemented by Concern Universal, 'Creating Commercial Enterprises through the Promotion of Fuel Efficient Stoves and Biomass Briquettes', which is aimed at reducing family expenditure on fuel costs, reducing dependency on traditional fuel such as wood and charcoal, contributing towards the reduction of Greenhouse Gas Emissions and indoor air pollution related illnesses.
"The stoves are based on the 'VESTO' model which has been successfully in use in South Africa for almost 10 years and the design has been modified to fit our local conditions and customs. A number of stoves are currently being tested in local households whilst the GTTI will be mobilising its resources to manufacture an initial 500 which will be marketed later this year as a limited roll-out as part of the ongoing project."
Read Other Articles In Article (Archive)