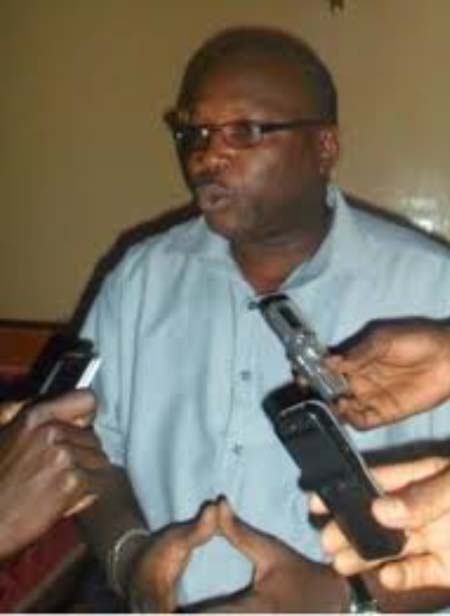 Abdoulie Bah, deputy permanent secretary of Ministry of Youth and Sports, has said competence will no more be compromised in coaching as the job has moved from volunteerism to meaningful gain.
DPS Kah made these remarks yesterday at the National Training Centre in Yundum while declaring open the 14-day CAF C' License Coaching Course organised by the Normalisation Committee of the Gambia Football Federation.
Mr Kah thanked the Normalisation Committee for their interest and efforts in ensuring the course was organised for 42 participants drawn from first and second division clubs as well as representatives from all regional football associations.
He as well expressed appreciation and thanks to their partners for the development of Gambian football.
He noted that the course, which is a pre-requisite for the 2015 CAF football competitions, could not have come at a better time than now that The Gambia is faced with football developmental challenges.
They would continue to provide the enabling environment for youth interested in sports to fulfill their dreams, he concluded.
Honorable Alagie Sillah, Chairman of the Normalisation Committee, said Gambians are in the habit of not respecting or appreciating what they produce, adding: "If Gambia does not use Lamin Sarr (Course Instructor) CAF will use him.
"We must respect and support one another," he added, calling on coaches to open their doors to their colleagues.
Coaching is participatory and needs joint responsibility, he went on, saying it is important for them to follow a chain of command.
"If one respects your profession you will be respected but if not you will not be respected," Hon Sillah further said.
The importance of the course could not be over-emphasised as other countries have conducted the course long ago and have even gone further to do the B' and A' Licence, he pointed out.
For Lamin Sarr to succeed at CAF the participants have to do well with their exams, he also said, challenging participants to make best use of the opportunity.
In concluding, Sillah thanked Government for "contributing immensely" to the success of the course.
Abass Bah, general secretary of Gambia Football Federation, in his welcoming remarks, described the day as important for Gambia football, saying the training would serve as a corner stone for football development in the country.
Coaches are the factories that can produce the talents to develop Gambian football, SG Bah stated.
Pa Suwareh Faye, president of Gambia Football Coaches Association, in his remarks, said the course was made possible thanks to the efforts of the Normalisation Committee, after it was planned to take place three years ago.
His association had not benefited from such training in 5 years, he observed, saying good players could not be produced without good coaches.
Mr Faye called for teamwork and unity among all coaches in the country, saying the biggest challenge of coaches is "not helping one another".
Coaches are the backbone of Gambian football, he remarked, adding that they are the babies of the GFF and should be given the care they need.
He stated that his association had been able to train up to 1,000 coaches since the time of Alagie Sillah, but said the country should have been doing the A' Licence course by now and not the C' Licence.
"We want things to happen in the country as they are happening in other countries," he stated further.
Lamin Sarr, Course Instructor, in his words, informed participants that there would be an examination at the end of the course and therefore called on them to take the course seriously.
"Coaching is a noble profession," he pointed out, calling on coaches to prepare themselves for CAF competitions as no coach is allowed to take a team through CAF competitions without a CAF Licence.
They (the coaches) will never progress with fighting, he observed, calling on all of them to come under one umbrella.
Jammeh E. K. Bojang, WAFU Secretary General, in his words of advice to the participants, said: "Football will continue to be sick and sickly without education."
He added that without education football "will never move an inch", saying to be a good administrator, referee, coach, or sports journalist one needs education.
Learning is a lifelong process, he went on, saying one can only be given importance "if you are educated".
"Our football will always be saddened if we do not have the knowhow," he further stated, telling coaches to be role models as youngsters are looking up to them.
"You have to know the game before being able to train players," he also told coaches, adding: "Education is the corner stone for football development and your personal development."
Club licensing among other thematic areas are expected be dealt with as a constitutional requirement for all league clubs to address the issues of player ages and match history.
The C' License Training is also expected to be followed by an equivalent course, from 15 to 18 September 2014 to be done in-house at the NTTC in Yundum.
Read Other Articles In Article (Archive)