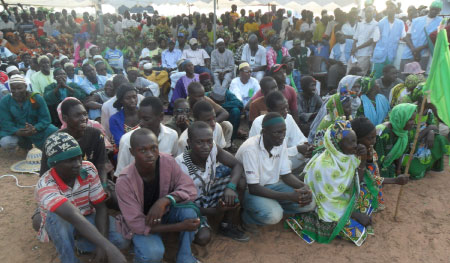 President Yahya Jammeh Monday began his nation-wide meet-the-people tour with appeals by communities in Njaba Kunda and Farafenni in the North Bank Region, where Jammeh and his entourage held their first meeting.
The people in those areas appealed for government's intervention in helping construct feeder roads of Kerr Pateh and Salikene to improve livelihoods in the area, among others.
Our correspondent, who is on tour with the President, said the Gambian leader and entourage received a tumultuous welcome in the North Bank Region, where he held two meetings on Monday.
Accompanied by cabinet ministers, heads of government parastatals, ruling APRC party bigwigs, diplomats as well as party militants, President Jammeh during the tour is holding meetings with the people at the grassroots level.
Speaking at the first meeting held in Njaba Kunda, Ousainou Faal, APRC constituency chairman underscored what he said, was the numerous development projects brought to the doorsteps of the people of the North Bank Region.
However, noting that one of the major problems facing the region is cattle rustling and other related problems, Faal appealed to government to do more by providing mobility for security officers in the region, so as to curb what he said were other pending security-related problems.
"We also want government to help us to construct the feeder roads of Kerr Pateh and Salikene to improve our livelihoods," he declared.
Speaking at the meeting, President Jammeh emphasized that he is not on tour because of politics, stressing that for the past 16 years, he has developed the country without looking into the eyes on anybody.
"If that is the case, then Gambians are not grateful to me for what I have done for them over the past 16 years," he said, adding that he is on the tour to listen to the concerns of the people.
According to the Gambian leader, he has fulfilled all the promises he made to the people of the NBR since 1994.
"So I will never seek for your support for any vote; if you want development, you know where to cast your vote, because I did not come to power through election," he told cheering supporters.
President Jammeh reiterated his earlier statement that the forthcoming presidential election is a foregone conclusion, noting that Gambians should be grateful to him for his achievements over the past 16 years.
"If I don't betray the Almighty Allah, I don't think he will betray me," he added.
He also reiterated his clarion call for people to go back to the land, noting that Gambians should endeavor to eat what is grown locally, rather than depend on imported foodstuff.
In his view, if things continue this way, people will have the money but won't be able to buy food like rice, if they don't grow it.
"If you don't have money, you may exercise patience, but if you don't have food for even three days, you cannot cope," he told a group of mainly farmers.
He called on the citizenry to change their attitudes, and grow what they eat and eat what they grow so as to guarantee their good health and well-being.
At the meeting in Farafenni, President Jammeh also called on the youth to take the lead in agricultural production by working with their parents, with a view to eradicating poverty in the country.
He said football should never be a deterrent to youths from helping their parents, noting that any youth who fails to work for his or her parents will work for somebody's parents.
Noting that hunger is synonymous with being black Africans, Jammeh attributed this mainly to bad governance in some countries, and unrest as a result of "Western-imposed democracy."
Also speaking at the meeting, Dr Momodou Tangara, minister of Foreign Affairs, International Relations and Gambians Abroad, who is also the ARPC liaison officer in NBR, called on Gambians to ensure stability in the country, especially during the forthcoming elections.
He described President Jammeh as a Pan-Africanist, who has shown real Pan-Africanism when he evacuated Gambians and other African nationals from war-torn Libya.
Lamin Kaba Bajo, minister of Fisheries, Water Resources and National Assembly Matters, who is also on the tour, called for unity among APRC militants in the region, stressing that the only politics existing in the region is one of rivalry, among the ruling party members themselves.
According to him, since the advent of the APRC regime in 1994, a lot of tractors were made available to farmers across the country, but due to bad management, most of these tractors could not serve them for longer periods.
In his remarks to welcome the tour party, Edward Seckan, Governor of the North Bank Region, assured the President and entourage that the people of his region will always be behind the ruling APRC.
He told the meeting that the people of his region have registered, and are now waiting to vote massively for President Jammeh come the 24th November presidential polls.
Other speakers included Yankuba Colley, APRC National Mobiliser, who is also Mayor of the Kanifing Municipality, National Assembly Members for Central Baddibou and Illiassa constituencies, Alhagie Ebrima Jammeh, chief of Illiassa and Hon. Ablie Suku Singhateh, National Assembly Member for Lower Baddibou and the APRC desk officer for the region, who chaired the meetings.
Read Other Articles In Article (Archive)