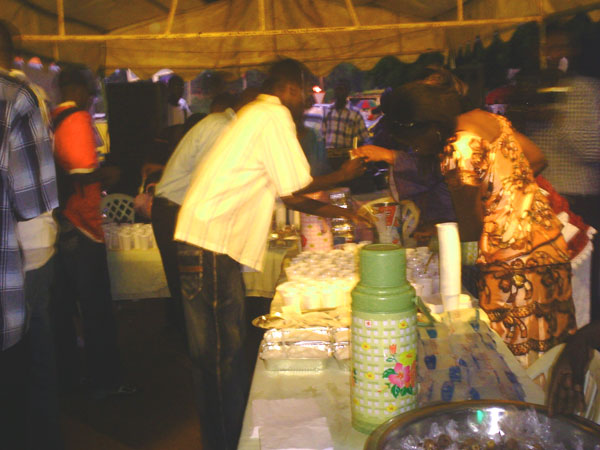 Comium, one of the country's leading GSM operators, has once again taken an edge over their counterparts by providing food free to not only their customers but to the general public in respect of the holy month of Ramadan.
The feeding program was provided in a form of IFTAR (fast breaking) at West Field junction just in front of AGIB bank.
Speaking to this reporter on the occasion, Mr. Ismaila Cham, co-ordinator of the Ramadan Campaign, justified the gesture. He said that the programme is the first of its kind to be organised by a GSM operator in the country. "Comium as you know is all about innovations, we always surprise people with new things that no other GSM company has done in this country," he said. He revealed that over 700 people were served with food to break their fast.  The IFTAR, he revealed, is also meant to give back to Gambians for their making Comium their first choice. According to him, they intend to organise a series of IFTAR during the remaining days of the Ramadan. When asked as to why they choose Westfield for the programme Cham said that the area is a very busy location with so many people. "As you can see we are doing this at this open place to offer the meal to everybody irrespective of whether you are a Comium subscriber or not," he said.
For her part, Mrs.Ndey Jay Faye a Comium subscriber from Kotu South who was among many who won a brand new bicycle thanked Comium for the meal. According to her, she only uses her Comium line to make calls all over the world simply because she added their net work is number one. "Since coming to this country I have been using their line and I will never use it for any other line thanks to their quality services," she stated.
Musa Ceesay from Old Jeshwang also thanked Comium for the meal. He said that providing someone fasting with a meal is commendable and would be rewarded by God.
Haruna York, also from Jeshwang, also described the event as historic in the in line with the teachings of Allah.
At the end of the event promotional material such as umbrellas, T-shirts, bags and caps were given to those gathered. The superb meal, according to many who spoke to The Point, is worthy of commendation and they also prayed for Comium for greater success.
Read Other Articles In Article (Archive)