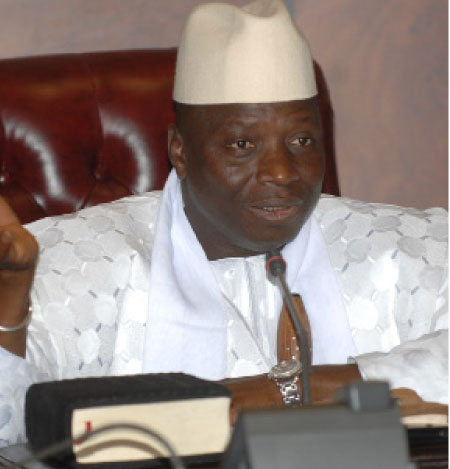 President Yahya Jammeh has said that he was shocked, when he read a report presented to him recently about a visit to the State Central Prison Mile 2, which among others highlighted the plight of inmates, especially those at the remand wing of the prison, some of whom have been there for years with only one court appearance.
He was speaking Thursday during the swearing in of the newly-appointed Chief Justice of The Gambia, Justice Mabel Yamoa Agyemang, at State House in Banjul.
''I was shocked that there are many cases and many people languishing at the remand wing just waiting for judgment; there are people who have appeared only once in a court, and it has been adjourned and up to today, they have never appeared in court again, and they are in the remand wing,'' President Jammeh said.
According to him, these are people that are supposed to know their fate quickly so that if they are innocent, they can go and join their family; and if they have done anything, they pay for it.
''But for somebody to be detained or remanded in custody after just one appearance in court for four years without seeing another judge or a magistrate is unacceptable,'' he declared.
President Jammeh noted that they have done everything possible, as the executive, to make sure that the judiciary are properly remunerated "and incentives put at your desk within the limits of our means".
The judiciary, he added, must also reciprocate by ensuring the speedy dispensation of justice. ''Many a time, you see on both sides, but most of the time it's from the defence attorneys. They know that this is a prima facie case against their client, and they know that that there is no way they can win the case; and then in order to waste time, they ask for unnecessary adjournments or bring in voir dire, which is becoming very common, and it is unacceptable.''
Though it is part of the legal system, however the judge or the magistrate has the final say on whether to grant voir dire, Jammeh added.
The Gambian leader went on to commend Justice Emmanuel Nkea of the high court in Banjul and a host of others for their diligence and hard work.
''I know that each time a case appears before Justice Nkea or Justice Amadi and others, I know they will be taken care of. Just like the Special Criminal Court operates, all the other courts should operate on the same pedestal. It is only in The Gambia where you find a murder case going [on for] four to five years,'' he said.
In President Jammeh's view, "a treason trial of coup plotters taking almost six years, it does not happen anywhere in Africa".
''In those cases, a coup plotter faces the justice system less than a week, and justice is delivered. Here in The Gambia, it has been going on and on, and it is not going to be tolerated. Justice has to be done and, in high profile criminal cases, I think the public wants to see justice done,'' he stated.
Read Other Articles In Article (Archive)