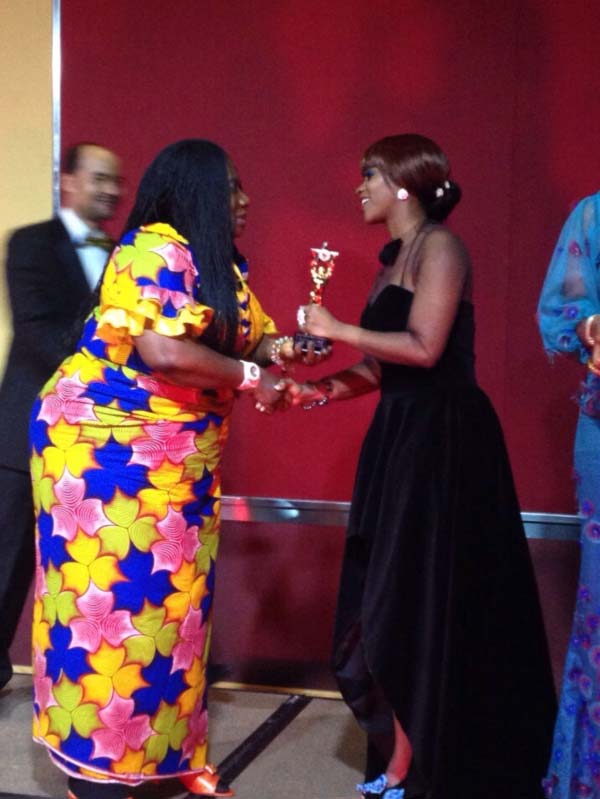 The next awardee was born in The Gambia on 16 February 1994. She's the daughter of a renowned playwright and author Dr George Gomez and a nursing sister and health adviser Mrs Sai Samba Gomez.
She studied Drama in Brampton Manor School, where she ended up with Grade A.
From an early age of 11 she joined a charity youth Group (Join Hands) where she organized and performed several shows, alongside with her fellow group members, to raise funds for charity projects in her native country of The Gambia.
Her talent and organisational skills were well noted and she was appointed as a group leader.
She came into spotlight when she won Ruke Amata's  "Class Act 2011"  talent hunt in which she was offered a lead Role in "The Past Came Calling" movie directed by Ruke Amata himself, which also featured one of Nigeria's top actresses, Chioma Chukwuka, and another top Ghanaian actor John Dumelo.
Marie has also featured in several movies produced in the UK like 'Hunting 4 hubbies', ' Life Beyond', 'Shameful Deceit', 'Battered ', 'Single & Searching' , 'Cafe Afrik' , 'London Na Wa', 'At Home Abroad', 'Adots wire and Kids', '18 Carat Mama', 'Psalm 91' and 'Nakala'.
Her manager, Ruke Amata, is a renowned top director in Nollywood, who is also the founder of the talent hunt "Class Act".
 She is known for her kind and bubbly personality.  Nevertheless, she is also known for her versatility and high professionalism in her career as an actress. 
The vice president of The Gambia, Her Excellency Dr Aja Isatou Njie-Saidy, described her as an Arts Ambassador of The Gambia and commended her achievement as an upcoming actress.
 In the year 2013, she won 'The Best Upcoming Actress of the year' award by the African Women of Substance Association in Birmingham.
In the same year she was awarded the 'Best Young Actress of the Year' by the Internationally-acclaimed Zafarr awards in London.
She is currently studying Tourism Management at Anglia Ruskin University, and is also interested in Modeling, but her love for Acting is incomparable.
Today this versatile young actress Marie Kumba Gomez who has just returned from a successful visit to Hollywood in Nigeria is recipient of The Joebol Exquisit 'Best Emerging Actress of the Year 2014 award', August 2014.
Read Other Articles In Article (Archive)