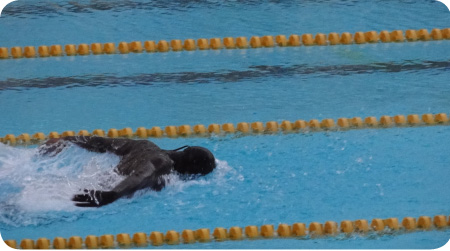 The 3rd Edition of the National Open Water Swimming Championship of the Gambia Swimming and Aquatic Sports Association has been set to take place on Saturday 28 December 2013 at the Ocean Bay Hotel.
The championship, which will be a 1.5km swimming race, will be competed in by two categories (junior and senior swimmers).
Cash prizes and certificates are also expected to be given to winners at the end of the competition.
Speaking on Sunday at Alliance-Franco, organising ahead of the championship and president of the association, Pa Alieu Jallow, said the championship is out to show Gambians that there are locals who can promote the sport.
He added that the association has been dormant for a while until his present executive among them Yorro Njie and Arfang Jobe, decided to put in more zest in promoting the sport. Since he joined the association as president, the executive have been showing commitment and dedication towards the sport, he said, adding that because of the executive members they are going for more events in The Gambia.
Mr Jallow said that come 2014 there will even be more activities different from the national championship. "A lot of efforts is being put in to see that the championship is successful," he added.
While they spend time in preparing for the event, they are also looking for money to put in it because the event involves huge expenses.
The executive have contributed immensely to making the competition a success, he noted, saying energy is also another area the executive have put in more emphasis.
Mr Jallow, who is also president of the boxing association in The Gambia and second vice president of Special Olympics, noted that he is not working under any pressure in the development of swimming in the country.
"I think I am contributing my quota towards sports development in the country," he remarked, adding: "Somebody has to do it and since it is being entrusted under my care by the people of this association I am just reciprocating the trust they have in me."
"I am working and doing it according to time and pace," added Jallow, who said he is coping comfortably with his task. "I am able to program myself for each activity in various times," he pointed out. "Believe me or not, my executive's aim is not only The Gambia; we are looking forward to the next Olympics."
He said The Gambia has never been represented in the Olympics by a swimmer but their aim as an executive is to set a record.
"Come next Olympics you will see swimmers representing The Gambia in various events in swimming," the confident-looking president said, adding that they aim to go far and wide.
He said further that they are in contact with FINA on a daily basis, adding that they would even send a representative through their bureau member in Senegal to grace the event.
"We want to make swimming a sport that everybody likes and enjoys," Jallow also said, adding that they want swimming to compete with football in The Gambia as it is in other countries. In this way, he noted, everybody will be aware of safety at sea and know how to protect themselves.
They are therefore encouraging both the young and old to learn or know about swimming, he said.
Finance, he also noted, is usually a problem but he and his executive are working on making the event a success.
They have been using Fajara Hotel over time but unfortunately it is now under a new management.
They were able to talk to other hotels to give them permission for their swimmers to conduct training during off seasons since they are not allowed to train at the hotel during the tourism season.
They would continue to work hard to generate funds from various sources to support their swimming activities and programmes, he said.
Arfang Jobe, technical director of the association, said they held regional championships in North Bank Region, West Coast Region, Banjul and Kanifing Municipality and selected the best swimmers from these competitions and gathered them to compete for the national championship at the end of the year.
He said that through the competition they were able to select the best swimmers for the national teams.
TD Jobe said the championship is also meant to sensitise people about swimming and its importance, adding that they target about 50 swimmers for the competition (10 swimmers from each of the 4 regions and provision for 10 more who may come to participate on the day).
The championship will help to improve the skills of swimmers and also prepare them for international competitions, he remarked.
Next year, he revealed, the distance for the competition will be increased to a 3.5km swimming.
Jobe also said they are in touch with FINA concerning the championship, as FINA are trying to encourage swimmers to do open water swimming since in Africa "we have a problem of having standard swimming pools". "If you do not have a swimming pool you should just concentrate on open water swimming," he said, adding that currently the 10km open water championship holder is from Tunisia. This is a reason why FINA is encouraging African countries to concentrate more on open water swimming since it does not require a swimming pool, he highlighted.
Pa Alieu Jallow, president of the association, is helping a lot to see that the sport progresses, he said, adding that he has the drive, time, passion and energy for it."Jallow is a leader who has the drive and loves the sport he is doing," Job said further, adding that Jallow is helping financially as well as with most of the logistics, time, energy, and other aspects.
Swimming Coach Raul Sambou, while commenting on the subject matter, said: "Swimming is important not only for our health but also for our safety.
"As Gambians we need to learn how to swim since the country is mostly surrounded by water from all ends."
Read Other Articles In Article (Archive)