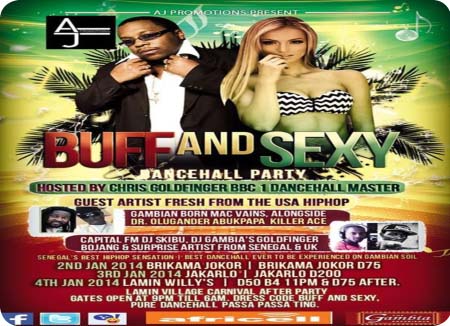 Chris Goldfinger, BBC Radio 1 reggae dancehall DJ, is in The Gambia attending charity concerts to raise funds for Lamin Village to grass its football pitch and build a community health centre and a youth centre.
The concerts of January 2 through 4, 2014 are holding at Brikama Jokor, Jakarlo-Senegambia and Willy's Night Club in Lamin with performances of upcoming US-based Gambianhip-hop artiste Mac Vains, home-based hip-hop singer Killah Ace, reggae singer Dr Olugander and DJ Skibu.
The charity concerts are organised by AJ Promotions in collaboration with the Wa Lamin Village Development Committee. The initiative is meant to raise funds that could be used for meaningful development.
Albere Junior Correa, Gambian US-based member of the organizing committee, said the initiative is designed to bring people of Lamin village closer to each other, encourage youth volunteerism and construct a market in the village where women could sell their vegetables.
"Chris has a great connection with The Gambians and we want to continue to nurture that love and bond through his reggae dancehall connection," Correa said of the British Broadcasting Corporation Disk Jockey.
"Due to his love for the country he will also participate in this year's Lamin charity concerts as the main guest," he added.
Correa said further: "Chris said he has come to The Gambia with brand new dancehall anthems to turn up the heat in the country, and that he feels at home in Gambia and wants to spread conscious and sound reggae music among Gambian reggae music lovers."
Read Other Articles In Article (Archive)