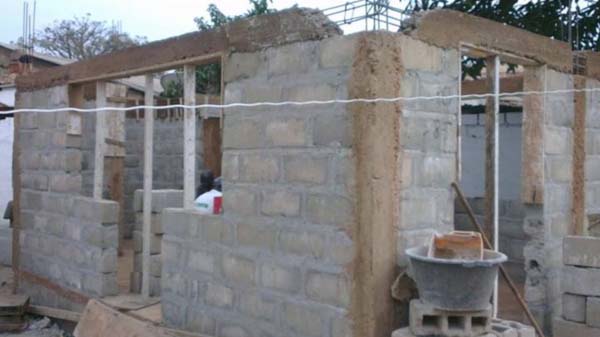 Imam Abdoulie Jobe Mosque at 39 Lancaster Street, Banjul, received a new face-lift this New Year (2014) as activities began in earnest to rebuild the family's spiritual heritage.
The start of the construction work followed the laying of the foundation stone, on 23 December 2013 by Imam Tafsir Gaye.
In a brief statement to mark the occasion, Imam Tafsir reminisced the building of the Holy Kaba by Prophet Ibrahim, assisted by his son Ishmael, relating that to the rebuilding of the Imam Jobe mosque.
He congratulated the sponsors for their steadfastness and called on other groups and individuals to contribute towards the completion of the mosque.
"Gambians owe a lot more to Imam Jobe for his contribution towards the entrenchment of Islam and good moral values in Sene-Gambian society," opined Imam Tafsir.
The work on the mosque is one of a major activity and has necessitated the transformation of the destroyed garage into a knowledge centre.
Local communities are being closely associated with all phases of this work, much to the delight of the benefactors, Daira Sopeh Imam Abdoulie Jobe.
It could be recalled that the late Papa Lie, as he was commonly called, was appointed Imam Ratib of Banjul in 1983 to 2004.
He is the acclaimed Chief patron of 26 Islamic organizations throughout The Gambia. He was a patron to The Gambia Supreme Islamic Council and served in the Law Reform Commission of the Ministry of Justice and in the Gambia Population Commission.
Along with the rendering of work on the mosque, an architectural study was started and costs estimated for the reconstruction of the mosque in the late Imam's former compound.
These tasks are being undertaken by the Daira Sopeh Imam Abdoulie Jobe (under the distinguished leadership of Abdul Rahman Corr) with financial support from generous donors.
Daira Sopeh Imam Abdoulie Jobe is not a family affair. The Daira, a fully organized group of middle-aged men, is managed by its members, who are indigenous to the Imam's neighborhood. Members have personal experience in the subject of the group's focus and are also each others' keeper, providing each other with various types of help, for a particular shared, usually burdensome, characteristic.
The aim of the Daira is to nurture the wishes and aspirations of the late Imam with a view to keeping his memory alive.
According to the President of the Daira,  Abdul Rahman Corr, the start of reconstruction is of great symbolic importance both nationally and internationally, marking the end of a period characterized by mere thoughts and sluggishness on the part of the Daira to kick-start the project.
However, Mr Corr pointed out that the completion and inauguration of the mosque and centre will happen together with the Tenth Annual Ziyarah of the Daira, named after the late Imam.
Read Other Articles In Article (Archive)