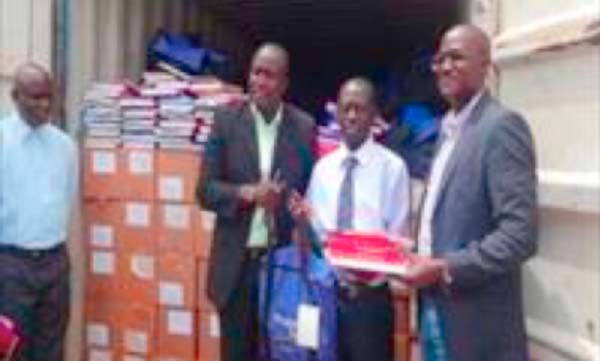 Over 64, 000 educational science text-books were donated to the Ministry of Basic and Secondary Education (MoBSE) by ChildFund International-The Gambia, at a presentation ceremony held at ChildFund's head office in Kanifing.
The presentation ceremony was presided over by Ya Sainey Gaye from the communication unit of ChildFund.
Speaking at the ceremony, Ebrima Sisawo, deputy permanent secretary at MoBSE, commended the ChildFund management for their support and collaboration with the Education ministry in Banjul.
Sisawo said the ministry has been in partnership with the ChildFund (CCF) for 30 years now, and appreciates the support and intervention of ChildFund in The Gambia in complementing the efforts of the government by providing teaching and learning materials for children.
According to him, the ministry has an ambitious goal to achieve educational targets within a timeframe and could not do it alone, thus seeks genuine partners and collaborators like ChildFund to support the realisation of these goals.
He noted that MoBSE had just completed a policy document for the next 15 years, and is looking forward from partners and collaborators such as ChildFund to support in the realising of the goals and objectives of the policy.
ChildFund's focus is on child development, which is one of the objectives of MoBSE, Sisawo added, and pledged his ministry's continuing partnership with ChildFund International-The Gambia.
James Pimundu, national director of ChildFund International-The Gambia, said one of the key components of ChildFund intervention areas is supporting children to attain quality education.
"We have been working with MoBSE for the past 30 years, with our core aim of complementing their efforts in protecting and developing the future leaders of The Gambia."
He added that one of the core values of ChildFund is to improve the educational status of children, and Child Fund International-The Gambia is complementing the efforts of the government by giving support to MoBSE in the form of educational items, among others.
ChildFund as an organisation through this could improve education in schools, and the beauty of it is that the books could provide the student much-needed knowledge and research materials, and through that performance could be enhanced.
"This is our noble contribution towards the education sector," he said, adding that ChildFund is working with MoBSE to complement the government's development efforts.
He noted that the books donated are new, and Gambian children would be first users of these books, which would be distributed among the various regions across the country.
Read Other Articles In Article (Archive)