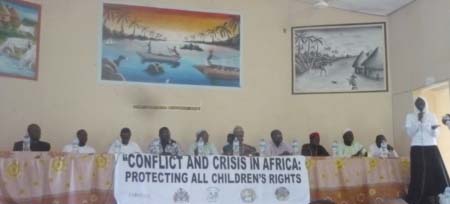 ChildFund The Gambia in partnership with six local partners on Tuesday belatedly commemorated the 23rd Day of the African Child on the theme 'Conflict and Crises in Africa: Protecting all Children's Rights'.

The commemoration, held at Mayork Junior and Senior Secondary School in Foni Bondali District, began with a match pass led by the Sanyang Scout Band.
Speaking on the occasion, James Pimundu, national director of ChildFund, said the commemoration availed the opportunity to come together to ask why are children not being protected enough, particularly during wars and other conflicts.
"It is important we protect the needs of children and that is why at ChildFund, we value the protection of children irrespective of their sex or religion," he said.
Mr Pimundu said they want to work with the public, communities, civil society organisations and the UN systems in the journey through the lives of children to adulthood.
He noted that The Gambia government has come up with the right policies and ChildFund works to complement that.
Sally Sadie Singhateh, UNICEF communication specialist, deputising for UNICEF representative in The Gambia, said in 2015, UNICEF estimate has it that about 250 million children were living in conflict, globally.
"Children in Africa are adversely affected, with 3 out of 10 children living in conflict areas," she said.
Ms Singhateh noted that the violence caused by Boko Haram in Nigeria, Niger, Chad and Cameron is responsible for the displacement of about 1.3 million children.
Also, according to 2011 UNHCR figures, the sporadic conflict in Casamance has driven over 11,000 refugees, many of them are children, across the border into The Gambia. Many of these refugees reside in Foni District of West Coast Region.
UNICEF communication specialist said despite The Gambia's long history of peace and stability, the population continues to be affected by climate related crisis such as floods and heavy windstorms, food insecurity due to poor crop harvests, and disease epidemics.
She said in order to complement The Gambia government and other development and humanitarian organisations, UNICEF has over the years provided support for children affected by emergency under its various programmes.
Bakary Saibo Sanneh, chairman of Brikama Area Council, has called on communities and civil society organisations to work together to ensure that the rights of children are not denied.
He also called on children to fight for their rights "but not to over step the corridors".
Read Other Articles In Article (Archive)