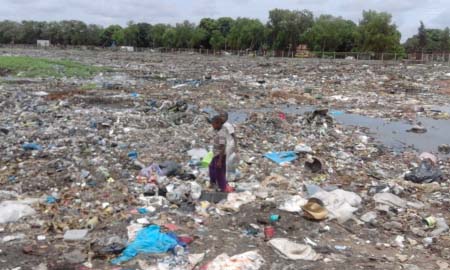 Residents of Bakoteh near the dumpsite have once again raised eyebrows about the appalling state of the site as the rains continue to increase in intensity.

The residents bemoaned the odour from the Bakoteh dumpsite, one of the biggest dumpsites in the Kanifing municipality, which according to them is increasingly becoming unbearable.
During a visit to the site on Wednesday, our reporter was told that the random throwing of refuse at the dumpsite poses environmental hazards in the community.
Saffiatou Sambou, an owner of a compound near the dumpsite, said she and her family are "very worried" about the site because the stench increasingly disturbs them a lot.
Even if all their windows and doors are closed, they can hardly breathe due to the bad odour. The smell sometimes makes it difficult for her to eat properly or sit outside to get fresh air, she lamented.
Adama Ida Ceesay, another landlord, said that sometimes even to sleep at night is a problem for them, because of the flies from the dumpsite.
For Touman Fatty, a native of Manjai, all they want is for the dumpsite to be closed and another dumping site opened elsewhere, where it will not harm the health of people.
Buba Sanneh, a staff of KMC who supervises the dumpsite, said KMC has contracted a company to push the waste into the middle of the dumpsite, so that will not affect people living nearby.
According to him, the council has spent "a lot of money" on the dumpsite just to see that it is well managed.
He said many children used to come to the site picking some materials, but thanks to the intervention of the police that has reduced. The intervention of the police was sought, because playing or collecting materials at the site is unhealthy for children and could cause many diseases.
Mr Sanneh said some people, including children, use donkey carts to go from one compound to another to collect waste, and later throw the waste at the dumpsite, just to earn some income.
"This is a major concern that affects the livelihood of children," he said.
Read Other Articles In Article (Archive)