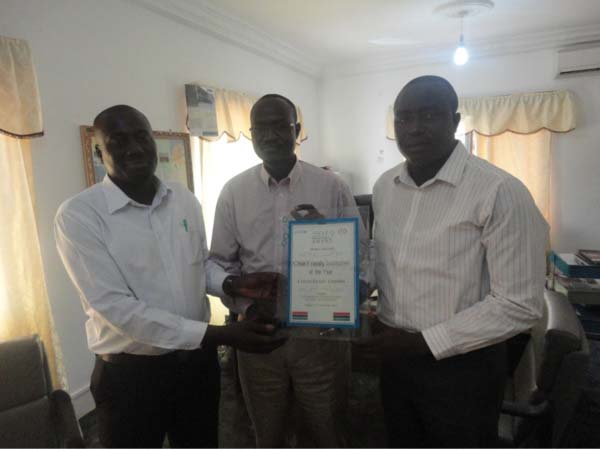 ChildFund The Gambia was last Friday awarded by Young People in the Media (YPM) as the 'Child Friendly Institution of the Year' in recognition of its support to the young.
Speaking to reporters yesterday on the development, James Pimundu, National Director of ChildFund the Gambia, described the award as very critical to them because the Young People in the Media recognises the fact that they are looking at the wellbeing of children in The Gambia in terms of their development, education, growth, protection, among others. "So for us it is quite important as it also means we are in line with what the Government of The Gambia is doing in terms of ensuring the wellbeing of children is addressed in the country," he said.
"As an organisation that is child focused, looking at the wellbeing of children, this is a very critical award to us," he added, saying: "As an organisation it is encouraging to us that the work we are doing is recognised by others outside."
"The fact that they are recognised will encourage other development partners to find out what they are doing and say 'if ChildFund can actually do, we can also do it'," he stated, adding: "This can give them the opportunity to share information together with development partners.
Engaging with Government, is a good thing for them as an organisation, he pointed out, saying ChildFund looks at children within the country in a holistic manner.
Mr Pimundu explains further:"Our focus is on children between zero to six years; so it is an initiative that looks at a child who is still in the stomach or a child who is being born, a child who has been born, a child who is prepared to go to school, issues around child and maternal health, so those are critical things we are looking at and once this child is between the ages of 6 and 14, this is a child who is in school, so how do we ensure this child goes to school, is protected and the other consequences around this child, and appreciate the rights of the child; it's a difficult thing, and lastly as thesechildren get older from the age of 15 to youth. We also have issues focusing on youth as future leaders and other aspects."
He also said: "If you look at the statics of the country more than 50 per cent are children and youth; so really for me this award is recognising the challenge we are having as a country, and as development partners this is something we will definitely want in complementing Government efforts or recognising the issues."
On working with the Government, their beginning is looking at the Government aspiration through the PAGE, he also said, describing it as one interesting thing.
"We complement, so we will look at what aspect is directly related to the kind of work we are doing. We will see our organisation directly with what Government is doing," he said.
"It is exiting that without the Young People in Media not informing us, they were able to silently find out who is doing what and in essence holding us accountable but also in essence trying to appreciate the good work we are doing; it is also a way of recognising that development partners are contributing to the development of the country.
Mustapha Kebbeh, Program Director ChildFund The Gambia, in his remarks, said the award definitely meant a lot to them looking at the fact that it's recognition from young people and as being serving a constituency.
"It openly gives us the opportunity to engage with the young people more and also challenge us to ensure that we are serving young people in the best of our ability," he said.
"If the young people could find out on their own who are those in situations of child friendly initiative and ChildFund's name happens to come up, for us that's a great thing.
"It means they are holding us accountable and it means we can never relent because we will never want to lose such a position."
Mr Kebbeh also took time to thank His Excellency the President of the Republic of The Gambia and his Government for creating the enabling environment for them to complement the efforts of his Government in implementing their programmes and activities.
Nfamara Darboe, Sponsorship and Communications Manager, said they are happy to receive such an award from the young people of this country.
He said: "To me we are given the award but it's a big challenge on us as an organization. I remember one of my professors saying: 'If they say you are doing good, that's the time you should start doing more because you don't want to be seen as doing good and then go down after that'; so we as ChildFund see it as a challenge and will work on how to improve on what we are doing in helping children and young people in the country."
He concluded by thanking their partners, saying: "We are able to achieve this much because we are partnering with individuals, organizations and the Government of The Gambia, which helps us to get to where we are today.
He therefore assured their partners and Young People in the Media and the Government that their work as an organization in helping young people will continue in good stead in the years ahead. 
Read Other Articles In Article (Archive)