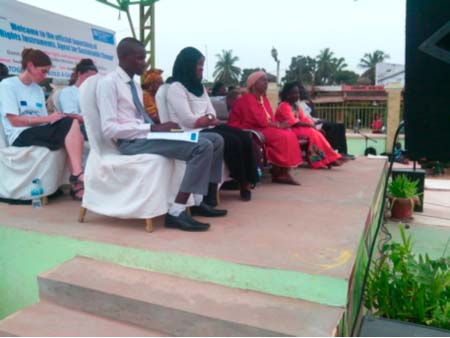 Child rights instruments, agent for sustainable change project was yesterday launched at the Youth Monument in Westfield on the theme: "Promoting the rights and protection of children."
In her launching statement, Saffiatou Cessay, permanent secretary at the Ministry of Health and Social Welfare, said the day marked a very important milestone, as they witnessed yet another development in their quest to creating an environment conducive fit for all children in The Gambia.
It is indeed the ultimate responsibility of government and its partners to ensure children are protected from all forms of violence, exploitation and neglect, she said.
She congratulated SOS Children's Village -The Gambia for the initiative, which is vital in their efforts to create child-friendly Gambia and the European Union for funding the project.
This project would enhance and consolidate the gains achieved over the years for sustainable development, she added.
PS Ceesay further said The Gambia had signed and ratified the child rights instruments and further domesticated them.
These are supported with sector policies to guide implementation, she said, although more effort is needed to raising awareness at the community level of the existence and implementation of the instruments.
In this drive, she added, SOS's implementation of such a project would go a long way in complementing government's effort at fulfilling the obligation to protect children from any form of abuse and exploitation.
Oumou Tall, SOS National Director, in her remarks on the occasion, said the grant was won through a direct call of SOS Children's Village-The Gambia to the European Union and that it was the first of its kind.
"We do have another project on women's empowerment, financed by the European Union, but through SOS UK," she said.
Mrs Tall noted that the overall objective of the project is to promote the understanding, access and implementation of child rights in The Gambia and ensure that children's needs are respected.
She said many years ago, millions of children around the world knew no other life, but "servitude and exploitation".
"They were emotionally and physically robbed of their childhood which results to frustration and low self-esteem," she added.
As an organization, SOS is committed to guarantying child rights to all children through partnerships, she said, adding that they would continue to strengthen families and work hand in hand with institutions and bodies like the European Union to serve children in The Gambia, and around the world.
Read Other Articles In Article (Archive)