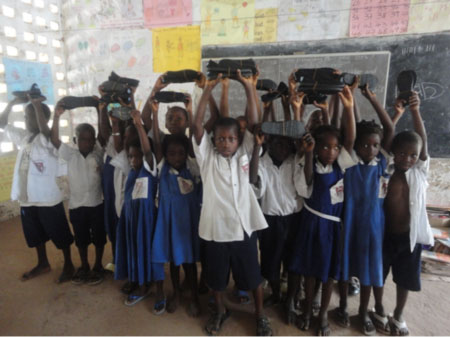 Saamasang Federation, a child fund-affiliated federation, is currently distributing over 40, 000 pairs of shoes to schools within the Kombo Central District of West Coast Region, thanks to Mr  Tom's intervention.
Speaking on the occasion,Lamin J. Sanneh, community mobilizer for Saamasang Federation who also represented Child Fund at the distribution level, hailed Child Fund and Mr Tom for the initiative.
The distribution will last for 6 days during which 45,000 pairs of shoes will be distributed to school-going children in about 10 wards within the district.
According to him, Tom is a US citizen and has been very supportive of the educational sector. Furthermore a good number of Americans are sponsoring the children, he said, adding that through their correspondence Tom has been able to donate to Child Fund, who tasked Saamasang to do the distribution.
For his part, Alieu B. Sillah, programme development officer for Saamasang Federation, said the federation is a charitable community-based organization located in Kombo Central District of the West Coast Region that aims at helping needy children.
It also has the capacity to improve their lives and opportunities to become adults, leaders and parents who will bring lasting changes to their communities.
"Our approach focuses on working with children, their families, communities and local organizations among others to create an environment those children need to strive," he added.
In these Community Associations there are 1,854 families enrolled in the ChildFund sponsorship programme with a population of 15,875 pupils (7,323 males and 8,552 females).
Out of this population 2,790 are under five, 4,832 are between the ages of 5 to 15 years whilst the remaining 8,253 are above 15 years old, according to Federation Records 2012.
Total enrollment in the ChildFund sponsorship programme with Saamasang is 3,184 out of which only 2,144 children are sponsored in 34 communities out of the 49 communities of Kombo Central.
Madam Kuta Jadama, assistant senior teacher at Brikama Lower Basic School, expressed appreciation over the gesture, saying it is timely and will relieve parents and guardians from buying school shoes for their children.
"Supporting schoolchildren means supporting future nation builders," she says.
Madam Jadama also lamented on the conditions of some of the orphan students who are in dire need of support at all levels.
Esther Mendy, head girl of Jamisa Upper Basic School, on behalf of the students and management, thanked Tom through Saamasang and ChildFund for the gesture, whilst appealing for more support in educational materials to boost academic performance in class. 
Read Other Articles In Article (Archive)