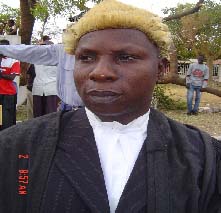 The Chief Justice, Justice Emmanuel O. Fagbenle, yesterday presided over the civil case involving the Alliance for Patriotic Re-Orientation and Construction (APRC) against the Independent Electoral Commission (IEC) and the Attorney General and Minister of Justice.

The petition, filed by Bala Garba Jahumpa, the APRC Secretary General, at the Supreme Court of The Gambia calls on the country's apex court to declare the 1st December election null and void.
The petition also urged the court to declare "Yahya Jammeh the duly elected president of The Gambia, instead of Adama Barrow", adding that Yahya Jammeh had "more votes than Adama Barrow" in the 1st December 2016 election.
The petition stated that the 1st December election was "invalid as [there was] non-compliance with the Elections Act", that "it was not conducted fairly and in good faith", and that the non-compliance seriously affected the credibility of the result of the election and thereby rendering the result invalid.
The petition further stated that the IEC, which is the statutory body responsible for the proper conduct of elections in The Gambia failed to properly collate the results of the election.
On 2 December 2016, the IEC declared the results and then, on 5 December, it declared a different result having noticed some errors.
It said no APRC representative was present when the said revision was made, neither was it signed by the APRC representative, Hon. Seedy S.K. Njie.
It further stated that on the polling day, the of 1 December 2016 in the Upper River Region; "25,000 APRC supporters who were on the queue to cast their vote for Yahya Jammeh were intimidated by the IEC presiding officers, and were not allowed to cast their vote and were sent home by these officers".
The petition further stated that the non-compliance also includes complaints of some irregularities in the conduct of voting in the Lower Fulladu West constituency.
During the court sitting yesterday, the Chief Justice Fagbenle disclosed that the Supreme Court was not properly constituted as it did not have the quorum of five Judges, but that the Judiciary was expecting judges from the Federal Republic of Nigeria and the Republic of Sierra Leone.
He said some Supreme Court judges were appointed since July 2016, and would be coming to attend the next court sitting.
The Chief Justice further said the IEC were not served with the notice of yesterday's proceeding, but would endearvour to serve the IEC before the next sitting.
The matter was then adjourned until 10 January 2017, for hearing.
The APRC was represented by veteran lawyer Edward Gomez and the Attorney General and Minister of Justice was represented by the Solicitor General and Legal Secretary, Saffie Sankareh.
Meanwhile, Mayor Yankuba Colley of the Kanifing Municipal Council led the APRC delegation.
It would be recalled that the Supreme Court of The Gambia had its last sitting in May 2015 under the stewardship of the Pakistani Judge, Nawaz Chowhan.
Read Other Articles In Article (Archive)