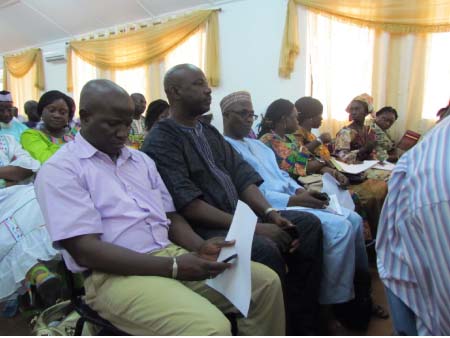 A Coordinating Committee Meeting (CCM) of the Ministry of Basic and Secondary Education (MoBSE) is under way in Mansakonko, with about 200 participants attending, mainly heads of the various units in the education sector and key partners of the ministry.
The five-day meeting which started on Monday is held rotationally among the Education regions every two months, and is used as a practical monitoring tool by the ministry in the implementation of projects in relation to quality education in The Gambia.
In her keynote address, the minister of Basic and Secondary Education, Fatou Lamin Faye, described the CCM as a forum featuring large representation of people from her ministry and their partners to learn from one another and ponder on issues helping to achieve the Education for All targets and MDGs.
"We have seen the participation of people right down to the school management committees, because we cannot get information that is authentic from any other source than from the horse's mouth", she said.
Thanks to the strong partnership between the ministry and her partners, the minister said, a thorough sensitization of the public on the school improvement grant (SIG) project, which aims at reducing household expenditure on education, is working well at the lower basic school level.
She announced that the ministry will extend the project to the upper basic school level in the 2014-2015 academic year.
The governor of the Lower River Region, Salieu Puye, welcomed the participants and commended the idea of conducting such a meeting to identify problems related to teaching and learning and proffer solutions.
As all schools belong to communities, he said, their involvement in managing the schools is important, Puye added, and pledged to add his voice to that of the school committees in order to help reactivate school farms and gardens, in order to supplement the school feeding programme in schools in his region.
Baboucarr Bouye, the permanent secretary MoBSE, in his introductory remarks, stated that participants would begin with a review of the minutes of the previous CCM, and hear about any progress made on their action points and recommendations.
Also, the representatives of all the schools visited during the last CCM in the North Bank Region will make presentations on their response to the recommendations, after which participants will move on to visit schools within the Lower River Region to assess their progress.
Read Other Articles In Article (Archive)