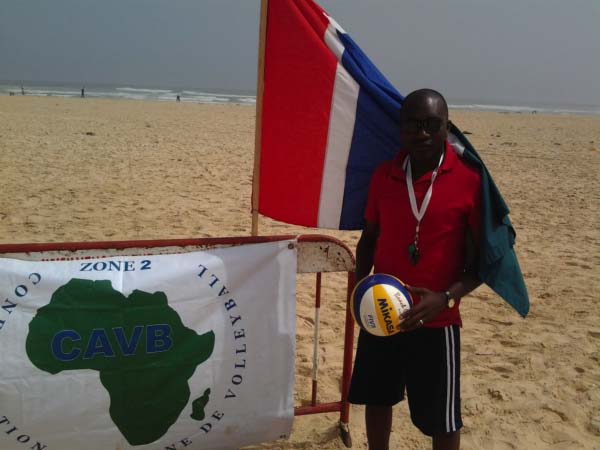 As the 2015 All Africa Games gathers momentum with participating African countries intensifying training in preparation for the Games, Africa volleyball governing body CAVB has nominated Gambian international referee Bai Doudou Jallow as a referee delegate to the games which officially opens on September 4 in Congo Brazzaville.
Jallow is the first Gambian volleyball referee to be categorised among the top international volleyball referees across the continent.
The 39-year-old became an international referee in 2011 after completing 11-day International Refereeing Candidate course jointly organised by Federation of International Volleyball and the Confederation of African Volleyball in Abuja, Nigeria.
''We have the honour to inform you that your international referee, Mr Jallow Bai Dodou, is nominated by the CAVB to accompany your National Men's team to the 11th All Africa Games to be held in Congo Brazzaville from 1 – 15 September 2015,'' CAVB executive Director Howyda Mondy said.
This is Gambia's first appearance in the senior continental showpiece for men thus a maiden appearance for Jallow.
"I am grateful and honored to accompany the Gambia delegation to the All Africa Games and I am ready for the uphill challenge," Jallow opined.
"It is really a huge challenge. This is the first time I am going indoor volleyball at the continental level, I am doing my physical preparation and am sure it would be a successful debut appearance for me.
"It is a big honour to represent your nation; when we go there they would introduce me as Gambian referee and that alone is raising the flag of The Gambia; so to sum it all I am privileged and confident to do my best," he concluded.
Bai Dodou Jallow, who also doubles as the 2nd vice president of the Gambia Volleyball Federation, said the national men volleyball and beach volleyball teams are preparing hard ahead of the competitions, and "I think the players are more ready and I am sure if all the support is rendered we can make history again".
He said further: "All Africa Games is a government-funded programme and we are in talks with the Government [of The Gambia] through the National Sports Council. The Government has taken the responsibility and they have processed all the accreditations for the players and the officials and now we are waiting for the processing of the air tickets and other logistics."
Read Other Articles In Article (Archive)