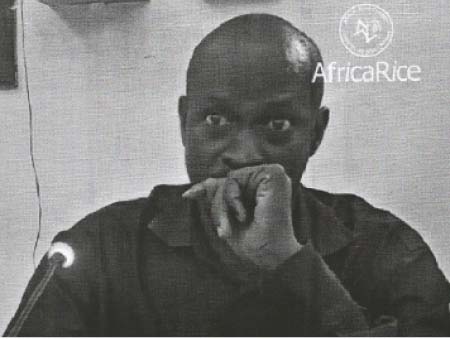 Almost two weeks ago (Thursday June 19th, 2014 to be precise), Dr. Babou Ousman Jobe, former Director General (DG) of the National Agricultural Research Institute (NARI) died. He was 54 years old.
To say that Dr. Jobe's death, following an illness, was a big loss to our nation is a huge understatement.
Physically, Dr. Jobe was an almost diminutive man, but he was a kind-hearted, hard-working, intellectual giant that spent all his adult life studying and/or working for The Gambia, Africa, and humanity at large.
My earliest recollections of him are around the 80s after he graduated from the Sixth Form (Gambia High School) and started working for the Department of Agriculture, and later for the newly-created Department of Agricultural Research (DAR). As young as he was back then, he quickly established a reputation for being smart, hard-working and dedicated.
Like many young Sixth Form graduates of that period, Babou was eager to pursue his further studies. He finally got his break in 1988 when he got a scholarship to study for a Bachelors degree at the University of Wisconsin (UW), Madison, Wisconsin, USA.
I was soon to join him, when I went to UW in August, 1990 to pursue my Ph.D. in Soil Science.
As fate would have it, I stayed with him and other Gambians in the same apartment when I got to Madison. Being in the same Department with him, I took some courses with him, and got to have first-hand knowledge of his smartness, and studiousness.
Babou studied all the time, and his social life was almost zero. Needless to say, his efforts showed in his results which were impressive by any standards.
Dr. Jobe graduated from UW-Madison in 1992with BSc in natural sciences, majoring in Soil Science. He promptly returned home to re-join the DAR, and was appointed Research Officer in the Cropping Systems and Resource Management (CSRM) Programme, conducting soil fertility management research. Dr. Jobe was absorbed into NARI when the new institution was created in 1993
Babou returned to UW-Madison in 1994 to pursue a Masters degree in Soil Science, with a major in soil chemistry. I was still at the Soils Department at UW, and on the verge of completing my Ph.D. Again, we shared an apartment, an arrangement which provided ample opportunity to engage him in discussions and dialogues about varied topics, including science, and our national development challenges.
Dr. Jobe graduated from UW-Madison in December 1996, and returned home to re-join NARI, as lead investigator in soil fertility management in the CSRM Programme. He departed for Taiwan in August, 2002 to pursue his Ph. D. in in Soil Science, with a major in soil fertility and plant nutrition.
Upon his return home in 2007, he was appointed as Principal Research Officer in the CRSM Programme conducting research on soil fertility maintenance.
Dr. Jobe was appointed as DG of NARI in January 2008, and served in that capacity for six years until the termination of his service on May 6, 2014. As NARI DG, he accomplished a lot for the institution and the country, including:
1.Capacity-building: He trained about 15 people to Bachelors level, over 30 people to Masters degree level, and enrolled about 10 Ph.D. candidates.
2.Resource Mobilization: Dr. Jobe helped conceptualize and prepare many agricultural development projects, including the WAAPP, FASDEP, the EU MDG 1c, and Women in Cowpea Production (a TCP project), to name a few. Three of these projects (WAAPP, FASDEP and EU MDG 1c) brought in at least $50 million (US) in funding, significantly boosting our agricultural development efforts.
3.Institution-building: As NARI DG, Dr. Jobe also oversaw the ITC; helping revitalize and transform it into a regional center of excellence. ITC, now called the Africa Livestock Innovation Centre, is firmly on its feet, and serves all of Africa. Dr. Jobe also contributed to the University of The Gambia, as a member of its Senate.
4.Partnership-building: Dr. Jobe also forged partnerships between NARI and many international research organizations and networks. He also worked closely with development partners (including non-governmental organizations), and donor agencies in The Gambia and outside.
5.Sub-Regional and International Relationships: Dr. Jobe served on, and chaired the National Experts Committee for Africa Rice, which consists of DGs of the agricultural research institutes of the 24 member countries of Africa Rice. A video of his statement closing the 2011 GRiSP-Africa Science Forum is found at http://tinyurl.com/m234vmu Dr. Jobe also served on the CORAF Board of Directors, and developed excellent working relationships with all national research institutes in the West African sub-region.
It is against this background that we lost Dr. Jobe. After I wrote to his UW-Madison Professor and other friends and colleagues to inform them of his passing, I got emails from people in the US and Africa lamenting his untimely death, and expressing their gratefulness to him for help he rendered them.
Many of his colleagues in various agricultural research and development networks have expressed similar sentiments upon learning of his death.
Although he is gone, his record will continue to speak loudlyfor him. I am pretty sure that those he helped train, those he worked with professionally, and his dear family he left behind would not doubt his qualities, and his contribution to our national development and agricultural research, and to development in Africa.
There is a saying that you can never win a tug-of-war with God when He wants to take someone, and that He always takes the good ones. In Dr Jobe's case, I also suspect that God might have called Dr. Jobe Home because we didn't convince Him we deserved His gift of Babou.
And that's the saddest part of this story, because we could have continued to benefit so much more from his immense knowledge and desire to serve.
May Allah grant his soul eternal heaven!
Dr. Katim S. Touray was a former Research Officer, Department of Agricultural Research.
Read Other Articles In Article (Archive)