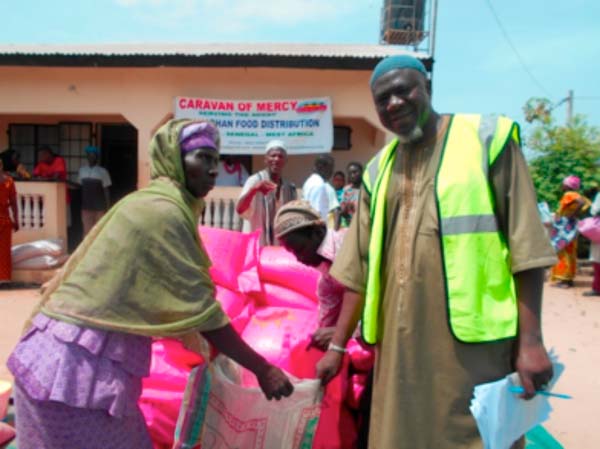 Caravan of Mercy, an NGO based in the United Kingdom in collaboration with local founder in The Gambia, Pa Modou Sillah, Saturday distribution food items to needy Gambians for the holy month of Ramadan.

The food items, which included bags of rice, gallon of oils and bags of sugar, were distributed to various widows and needy Gambians.
The presentation coordinated and supervised by the local founder in The Gambia,Pa Modou Sillah, was held at the NGO's office in Brikama, West Coast Region.
Speaking at the presentation, the local founder of Caravan of Mercy, Pa Modou Sillah, explained that the NGO was brought into the country by him when he was returning home from UK after teaching there for two years.
According to Mr Sillah, the NGO targets those who could not afford to provide three meals a day, adding that they deemed it fitting to support them in one way or the other to address their difficulties.
Mr Sillah also revealed that Caravan of Mercy also built three schools around the country and three Madrassas in SereKundanding, Kuntaur and Madina Manneh in Numi, North Bank Region.
He said the distribution of food items was part of the NGO's annual package during the holy month of Ramadan to support the needy Gambians.
He also disclosed that two weeks ago, the NGO distributed food items to about four hundred families.
The Caravan of Mercy are providing support to three hundred and fifty families, and on each of this occasion, they give each beneficiary 25kg of rice, 4kilos of sugar,and two litre of oils.
According to Mr Sillah, the NGO started operating in The Gambia since February 2006 and has been embarking on this kind of activities annually.
He said the objective was to alleviate poverty, through education and support for widows and orphans..
The NGO have a Boarding School in Kuntaur that teach sixty orphans, who are memorising the Holy Quran free of charge, he said, adding that the NGO is supporting another thirty students who are from needy families by paying their fees.
He said in addition to the school fees, they also give each child pocket money of one hundred dalasi per month.
Mr Sillah thanked The Gambia government, through the Ministry of Education for providing the duties wavers to them when the container arrived at the seaport.
For their part, the beneficiaries expressed appreciation over the donated food items while assuring the donors that the items would be properly utilise and would reach to the rightful needy in The Gambia.
Read Other Articles In Article (Archive)