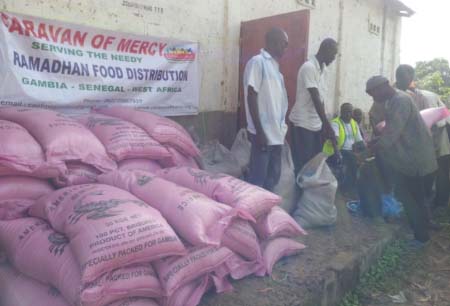 Caravan of Mercy, an international NGO operating in The Gambia, helping the poor and needy recently distributed food items worth over one million dalasi.
The items were distributed in the Central River Region, Upper River Region and West Coast Region, disclosed an NGO official.
In an interview with reporters at the NGO's headquarters in Brikama, Pa Modou Sillah, Caravan of Mercy Oversees coordinator, said the NGO is in The Gambia to support the needy, widows, and orphans in the country by giving them helping hands in support of food, clothes and learning materials.
"In our two food distributions in the country in 2013 covering CRR North, URR and WCR, we distributed one million, two hundred and fifty-four thousand, four hundred dalasis (D1,254,400.00) worth of food items."
According to him, they did the food distribution in March and June, saying they help families that are in dire need of rice, cooking oil and sugar.
"As an NGO, our benevolent gesture will continue as far as we continue to have donors that are willing and ready to give us their Zakat to give it to the poor, the needy and widows in the country," he said, adding that their money or all their food distributions are earmarked only for beneficiaries and nothing else.
Mr Sillah explained that in their March food distribution, it was one wealthy man by the name Minaz Ousman in the United Kingdom and his friend who gave their Zakat to his NGO to buy food items and distribute them to rural families who are living in huts.
Mr Ousman himself was in the country to witness the distribution of his Zakat to the poor, he said, adding that they covered ten villages in CRR North and URR.
In WCR, they have one thousand five hundred families in their database to benefit from their donations, he said, adding that the June food distribution formed parts of their Ramadan distribution, which the NGO does yearly.
Mr Sillah also expressed his sincere gratitude to the Government of The Gambia for creating the enabling environment for the operations of NGOs and for its moral support but was quick to express dismay with some government agencies, saying: "It is rather unfortunate that there are few government agencies who are really a stumbling block towards our progress because the support they should render us as an NGO, is not given by them, which can be a discouraging factor to our donors."
Mr Sillah said that when donors are discouraged, it's not the NGO that loses; it is the poor who need their services who surfer.
Read Other Articles In Article (Archive)