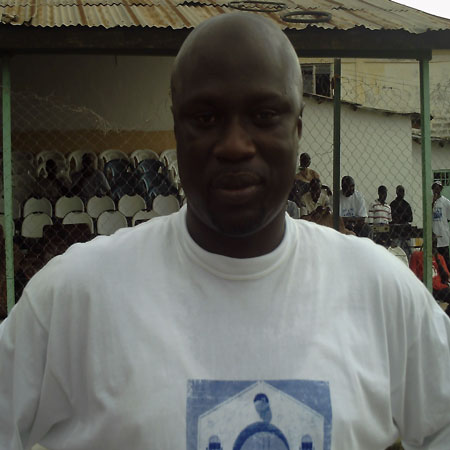 All coaches identified to coach their respective zones are urged to select only players who have participated in this year's Nawetan.
The objective is to enable the Super Nawetan coaches to select players that will represent Banjul in the Super-Nawetan tournament.
DATE                                       TEAMS                                     TIME
SUN: 20/11/11   BANJUL NORTH VS TOBACCO ROAD          4.00PM
MON: 21/11/11  BANJUL SOUTH VS BANJUL CENTRAL         4.00PM
FRI:  25/12/11    BANJUL CENTRAL VS TOBACCO ROAD     4.00PM
SUN: 27/12/11   BANJUL NORTH VS BANJUL SOUTH             4.00PM
TUE: 29/11/11   BANJUL SOUTH VS TOBACCO ROAD          4.00PM
WED: 30/11/11  BANJUL NORTH VS BANJUL CENTRAL        4.00PM
FRI: 2/12/11                  FINALS                                               4.00PM
OBITUARY – DEMBA GAYE
The Banjul Sports Committee regrets to announce the demise of Demba Gaye who was a member of the organising committee and the supervisor of the ticket sellers.
He passed away on Saturday, 5 December and was buried on the same day. Demba was humble and sociable with a keen sense of humour, which made him comfortable around all manner of people.
He was loved by everybody because he genuinely cared for others. He was a big man – big in heart, generous, open and full of humour and vigour. Apart from his humanity and unflagging love for his fellowman, one could quite confidently say that among the values he cherished most were simplicity, openness, honesty, firmness and humility. His interest in and sense of duty to, not only his family but all who came his way, never faltered.
The Banjul sporting family has lost a dear brother, friend, father and husband. We pray the Almighty rest the soul of this wonderful man in eternal peace
SKY HIGH GROUP BEST TEAM OF THE WEEK: Late Kebba Demba for their performance against Killer Ghett's. As one the relegated teams, they showed grit and determination in the 2012 qualifying rounds, they will rejoin the nawettan proper with Ease.
SKY HIGH GROUP BEST PLAYER OF THE WEEK: Cherno Sarr (NJIKI) solid defensive performance against Elminite.
SKY HIGH GROUP BEST GOAL OF THE WEEK: Eugene Gabbidon wonderful strike against Killet Ghetto's to equalize the match.
SKY HIGH GROUP MISSED OF THE WEEK: Bala Gaye of Elminite scuffing an open goal chance in the six yards against Revelation.
Read Other Articles In Article (Archive)