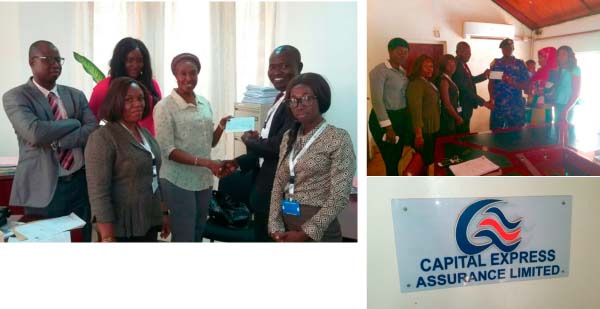 Capital Express Assurance has continued its crusade in the actualization of its promise to pay claims as a life assurance company.

D19,166.68 was recently paid at the Central Bank of the Gambia as a result of the claim on credit life or banker's assurance scheme, put in place with Capital Express Assurance.
Credit Life/Bank assurance scheme is designed to protect financial institutions against the risk of default in loan repayment in the event of an untimely death of a customer, critical illness or permanent disability as a result of accident.
Victor said their bankers assurance scheme makes it possible for any eventualities to be covered by Capital Express on behalf of the staff of a particular bank.
He praised the Central Bank of The Gambia for taking up the initiative to put the scheme in place for their employees as it gives them a peace of mind.
Haja Jallow, deputy director of Administration and Human Resource, and Saikou Kassama, Principal Insurance compliance officer at the Central Bank of The Gambia, expressed gratitude to Capital Express Assurance on behalf of CBG and called on them to raise their awareness campaign on their life insurance services which are highly beneficial to the general public.
Ms Mawudey Kurang, acting head of business division at Capital Express Assurance, stressed the importance of institutions setting up the banker's scheme, saying that had the scheme not been in place at the Central Bank courtesy of Capital Express, the bereaved family would have been faced with financial constraints in repaying the loan, relinquishing their assets that serve as collateral or the guarantor would be compelled to settle the outstanding loan.
In another development, a similar cheque presentation for about D15,000 was given at the Gambia Armed Forces headquarters in Banjul.
The claim was paid to the beneficiary of a deceased military personnel who had an individual life assurance policy with Capital Express Assurance.
Capital Express Assurance offers a host of innovative and life assurance schemes such as the group life/death in service scheme, Capital Express Universal Life Assurance Policy (CULAP) and Guaranteed Tuition Protection Plan (GTPP), Student Welfare Insurance Scheme(SWIS) and Mortgage Protection Assurance Plan, which are all customised to offer a unique combination of insurance protection and capital accumulation while also giving one the opportunity to choose benefits in accordance with his financial capabilities and needs.
Read Other Articles In Article (Archive)