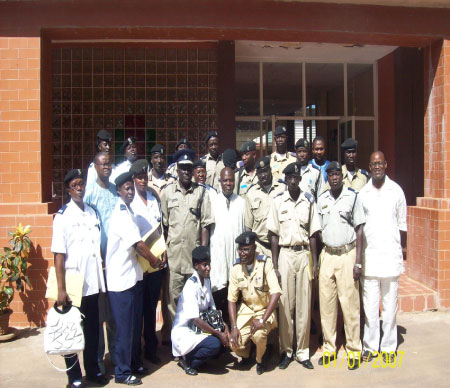 The Personnel Management Office (PMO) recently organized a week-long training course for senior prison officers on Leadership and Capacity building at the Management Development Institute (MDI).
Speaking at the closing ceremony, Alieu Jarju, deputy director general of MDI, said capacity building is a key ingredient for national development as espoused in our national development blueprint, the Vision 2020.
He also noted that capacity building is also a centerpiece for both the attainment of the Millennium Development Goals (MDGs) and the Gambia's government policy as initially promulgated in 1999.
"So there is already a policy, as well as a national agenda that requires training, skills development and overall capacity building for all sectors of our economy," he said.
He added that it is an urgent necessity for all nations, especially for people like us that are listed among developing countries.
"As technology and society progress, education or updating skills must progress as well; for human resources to deliver efficient and effective services, there must be present the necessary fundamental skills".
Yaya P. Jarju, deputy director of prisons, told the gathering that the duration of this important training may not be enough, but would help them in their work.
"It gives you the opportunity to acquire basic managerial skills as you are all potential future leaders of the prisons department," he said.
He said the skills they have acquired when positively put into good use in their different places of posting can bring about a positive change, that will be in line with modern day institutional management.
Delivering the vote of thanks, Modou Jarju thanked the organizers and MDI for providing this kind of training for them, describing the course as an eye-opener for them.
He told his fellow participants to reflect their minds, as to whom much is given much is expected, and urged them to make good use of the knowledge gained in their different places of posting.
Read Other Articles In Article (Archive)