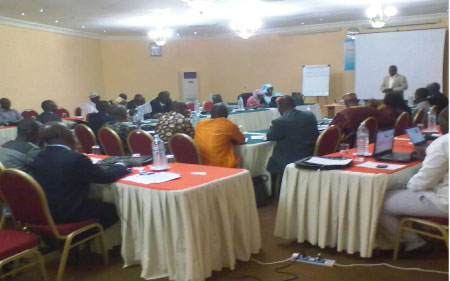 The Gambia government received a technical assistance grant of US$ 290,000 from Islamic Development Bank (IDB) to provide technical assistance and capacity building training for the ministries and project implementation units that are executing IDB projects.
The capacity building component is being implemented by Agency for the Management of Public Works (Gamworks) on behalf of the Ministry of Finance and Economic Affairs.
In line with this project, Gamworks, in collaboration with the Management Development Institute (MDI), on Monday commenced a two-week training course in project management at the Ocean Bay Hotel in Cape Point.
The training brought together 40 participants from various government ministries, public enterprises and agencies.
It aimed at enhancing the capacity of the project management staff of the government ministries and agencies involved in implementing the IDB projects to ensure successful and timely implementation of those projects.
It also aims to equip senior project management staff with project leadership and communication skills.
Speaking at the opening session, the director general of MDI, Dr Jainaba Kah, said the technical assistance grant for capacity building in project management is valuable because there is need to build and retain capacities and competencies necessary for successful project implementation, which calls for the strengthening of national systems in conjunction with a rigorous civil service reform.
"The Management Development Institute is most grateful for the opportunity to address these longstanding capacity gaps by becoming a partner in the provision of training in three areas: project management, procurement, and monitoring and evaluation," she said.
"This is all geared towards building the capacities of line ministries by ensuring that staff get the requisite skills and competencies to ensure successful and timely implementation of project programmes for the socio-economic development in The Gambia."
The workshop was the first in the three-part series of trainings, Mrs Kah said, adding that they would run one course on quarterly basis and would ensure hands on skills training are built into the modules.
The MDI director general revealed that "MDI is now better equipped and positioned" to partner with the project.
"We are working tirelessly to improve our processes, strengthen our faculty and staff by ensuring we receive professional development and training to better serve your needs," she said.
The faculty and staff of MDI recently completed a two-week refresher course on management facilitated by the Ghana Institute of Management and Public Administration (GIMPA's).
Shea thanked Gamworks and IDB for their hard work, saying the IDB are partnering with clients to provide bigger development projects.
For his part, Ebrima Cham, Director General of Gamworks, said the technical assistance and capacity building for project management is a US$307,000 project financed by a US$290,000 grant from IDB and counterpart funding of US$17,000 by the Gambian government.
Mr. Cham urged all participants to actively take part in the training. He commended the MDI for the partnership, while thanking the Ministry of Finance for entrusting the project to them.
Read Other Articles In Article (Archive)