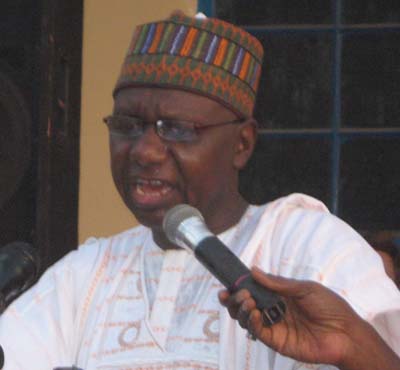 According to the Food and Agriculture Organisation (FAO) some one billion people in the world are hungry.
This was contained in a message documented by the FAO's Director-General, and delivered on his behalf by the UN food agency's country representative, Mr.Baba Gana Amadou, on Friday in Basse during the celebrations marking World Food Day.
According to him, for the first time in history, more than one billion people are undernourished worldwide. This, he said, is about 100 million more than last year and it means that one in every six persons suffers from hunger every day.
He noted that the recent increase in hunger has not been the consequences of a poor global harvest but the world economic crisis, which he said, reduces incomes and employment opportunities of the poor and significantly reduces their access to food.
The FAO country boss further stated that it is vital, particularly in times of crisis, that support to agriculture should not be reduced.
"Only a healthy agricultural sector, combined with a growing non-farm economy and effective safety nets and social protection programmes will be sufficient to face the global recession, as well as eradicate food insecurity and poverty," he said.
He lamented that food production is still hampered by the increased in the cost of inputs, thus making agricultural investment extremely difficult in many countries.
Welcoming the celebrants on behalf of the Regional Governor, Mr.Sekuna Sanyang revealed that the day is aimed at creating public awareness about world food problems, as well as strengthening solidarity in the fight against hunger, malnutrition and poverty. He hailed the Ministry of Agriculture and partners for choosing URR as the host of the event.
Mr.Lamin Nyangado of Action aid recalled various interventions initiated by his NGO, all of which, he said are aimed at reducing hunger in the country.
According to him, they have been collaborating with the Taiwanese Technical Mission in the area of land development and horticulture in Jahally where they inject over seven million Dalasi as their contribution.
He further revealed that Action aid has supported Group Gibo in Upper Saloum with over nine million Dalasi to market their groundnut and four hundred and fifty thousand Dalasi to Wuli and Sandu Development Association for a similar venture.
"We also supported the National Alliance for Food Security with over eight million Dalasi for seed and cereal banking, among others", he disclosed.
Nyangado alluded that there are some structural issues undermining their efforts to achieve food security, which includes the way and manner in which international financial institutions (IFIs), such as IMF, World Bank and WTO operate. He called on the governments of developing nations, particularly The Gambia to ensure that the voices of the hungry people are brought to the attention of these institutions.
Bakary Trawally, the Permanent Secretary at the Ministry of Agriculture, in his speech, commended President Jammeh for his back-to-the-land policy and for leading by example.  
"We must grow our own food rather than depending on imported food," he said. He announced that his ministry intends to embark on fundamental changes in the agriculture sector. The celebration that began with a procession from Red Cross office to Nasir Senior School was centred on the theme, "Achieving food security in times of crisis".
The Tele Food Day ended with an exhibition of farm produce cultivated in the area and a candle vigil.
Read Other Articles In Article (Archive)