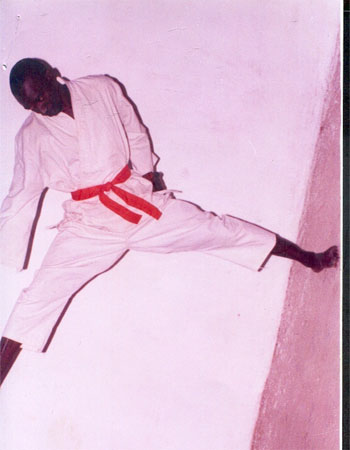 The Busumbala Karate Club will stage its first Karate contest Saturday 28 March 2009, under the auspices of The Gambia Shotokan Karate-Do International (SKI) association, at the Busumbala Islamic Institution at .
"The competition is in line with the plan of action of the Gambia SKI," said the assistant instructor Alhusein Trawally.
The competition is part of a fulfillment of  the membership condition of the umbrella body which states that  every member club has to at least organize a competition once every year. This he said will boost the strength of the club and winners shall represent the club in the SKI National Championships.
The competition will be divided into two main categories Kata and Kumite, from Brown to White belts respectively.  Participation of women and children are fully emphasized by the SKI Association and the competition is only limited to members of Busumbala Karate Club and the refereeing is purely SKI/WKF techniques.
The referee committee of The Gambia SKI will officiate the competition, and the president of the Association will officially open the competition.
Alhusein Trawally said his boys are fully prepared for the competition and had participated in the last Sensei Kaba Karate Championship 2009 held at Wellingara.
"There is no magic in sports; if you train hard, you will win. Losing one competition prepares you for the coming ones, and winning titles similarly puts a burden on you. Because the winner will want to maintain his\her title and the loser will want to cling to that title, therefore both parties are in trouble," he explained.
Read Other Articles In Article (Archive)