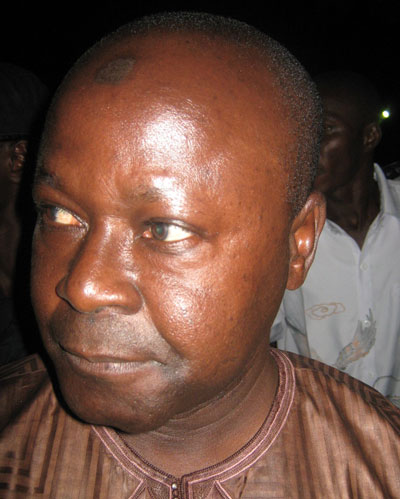 A 30-counts charge was yesterday preferred against former National Drug Enforcement Agency (NDEA) Executive Director, Ibrahim Bun Sanneh, and four others appearing before Justice Amadi at the High Court in Banjul, following the amendment of the charge sheet by state prosecutors.
The other accused persons are ex-deputy director NDEA, Karamo Bojang, ex-director of operation NDEA, Ousman Sanneh, Marie Sanneh and Seedou Bojang.
The accused persons, all of whom have maintained their innocence, are now facing a 30-counts charge.
The counts range from conspiracy to commit felony, stealing by person in public service, aiding and abetting, unlawful possession of fire arm, unlawful possession of live ammunition, concealment and destroying evidences, official corruption, abuse of office, economic crimes, obtaining money by false pretence, to making a document without authority and forgery.
Meanwhile, the bail application filed by the defence had been refused, following a court ruling to that effect.
In his evidence-in-chief, the first prosecution witness, one Alieu Samba, told the court that he is business contractor, and that he recognised the 1st and 5th accused persons.
"I was in London during the month of Ramadan of 2009, when I received a call from a gentleman, who identified himself as one Pa Bojang working for the NDEA."
Still testifying, the prosecution witness further adduced that the said Pa Bojang told him that they are looking for handcuffs and gas spray for the NDEA, but told Pa Bojang that he can supply handcuffs, but not gas spray.
"I then requested him to send an official letterhead of the NDEA in order to procure and authenticate the transaction of the handcuffs," he told the court.
According to Alieu Samba, Pa Bojang sent the document to him by fax, which he took to the man who does his financing, adding that the man looked at the document and said to me 'that is your country, I will help you."
"I came back to The Gambia on a Friday, and on a Monday I went to the NDEA office in Banjul to see the said Pa Bojang. He (Pa) welcomed me, and informed me that his boss (Director General) has travelled, and that whenever he returned I will be informed," he told the court.
After a week, the witness continued, he was called again by Pa Bojang and informed that his boss ( Bun) is around.
"So I went to his office, and Pa introduced me to him, the 1st accused (Bun) who asked me (Alieu) about the price of one handcuff, and I told him that its D1, 500 each. The 1st accused told me to reduce and, subsequently, we agreed on D1, 000 for each handcuff."
He testified further that the 1st accused person (Bun Sanneh) told him to supply 350 handcuffs, which was equivalent to D350,000, stating that the document sent to him (Alieu Samba) in London was for the supply of handcuffs for the NDEA.
Further testifying, PW1 adduced that the 1st accused (Bun) called the 5th accused (Seedou Bojang) the NDEA Accountant, and asked him (Alieu Samba) to give an invoice of D350, 000 for 350 handcuffs to Seedou Bojang, the 5th accused person.
PW1 said, about two days later, the 5th accused went to the government treasury to submit, and within two days, the 5th accused handed him a cheque for D315, 000 from the Central Bank, as the NDEA took 10 percent with holding tax. "The 5th accused then told me to go with him to his office where he opened a book and told me to sign, and he handed over the cheque to me," Alieu Samba informed the court. PW1 also testified that he went to the Standard Bank to deposit the cheque, and they took it to the Central Bank for clearance, after which it was deposited into his account.
He said he returned to London and came back, and met with the 1st accused (Bun) at Police headquarters, who asked: "My handcuffs is not yet here?" adding, "you would have a problem with me."
According to PW1, the 1st accused, Bun Sanneh, later told him that he had lost a relative in Foni, and that he needed D30, 000 from him.
"I went to the bank and took my own money, and went to the 1st accused's office where I gave him the D30, 000," PW1 told the court. He said then for a while the 1st accused did not call to remind him about the handcuffs.
Still testifying, PW1 Alieu Samba told the court that, one day, the 1st accused, Bun, called and told him "Boy Samba, I need some money, and I told him that I don't have money." Subsequently, he said, two days later, he heard that the 1st accused, Bun Sanneh, was removed from his position at NDEA.
When asked by the Director of Public Prosecutions, Richard N. Chenge, whether he supplied any handcuffs to NDEA, PW1 replied in the negative. When further asked by DPP Chenge about the said money, the prosecution witness responded that he had returned the said D315, 000 to the NDEA.

Cross-Examination by the Defence Counsel Kebba Sanyang: 
Q- It is correct that you were arrested and charged before this court in this case?
A- I was called to the NIA office, and I was charged.
Q- It is correct that you were detained at Mile 2?
A- Yes.
Q- How long have you been detained at Mile 2?
A- Two days.
Q- Prior to your detention at Mile 2, where you detained anywhere?
A- Yes, I was detained at the NIA office.
Q- When where you taken from Mile 2 to NIA?
A- On 29th April 2010.
Q- It is correct that up till now you are under detention?
A- Yes.
The case was subsequently adjourned to Tuesday 18th May 2010 for continuation.     
Read Other Articles In Article (Archive)