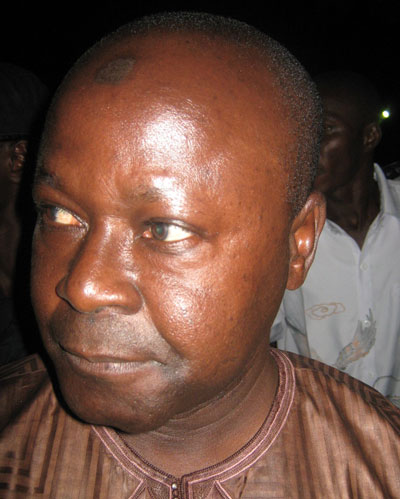 The trial involving Ibrahim Bun Sanneh, former executive director of the National Drug Enforcement Agency and four others, resumed yesterday at the Special Criminal Court before Justice Emmanuel Nkea.
Ibrahim Bun Sanneh, former NDEA Executive Director, Karamo Bojang, former Deputy Chief of the agency, Ousman Sanneh, former Commissioner of Operations of the agency, Seedou Bojang, the agency's accountant, and one Marie Sanneh, were indicted by state prosecutors under a 30-count charge.
The alleged offences include conspiracy to commit felony, stealing by person in public service, aiding and abetting, unlawful possession of fire arm, unlawful possession of live ammunitions, concealment and destroying of evidence, official corruption, abuse of office, obtaining money by false pretence, making document without authority, among others.
Continuing his defence testimony, Ousman Sanneh, former NDEA director of operations, told the court that one Ousman Jatta was going round scandalizing the name of the 2nd accused person, Karamo Bojang, by saying that his source of drugs was Bojang.
According to him, one Tijan Jallow said he gave money to Ousman Jatta to buy cocaine for him from Guinea Bissau, adding that when he received that information, he informed the 1st accused, Bun Sanneh, who also informed the 2nd accused.
He added that the 2nd accused then ordered him (the witness) to arrest Ousman Jatta.
The witness further told the court, in his defence, that he arrested Ousman Jatta, and took him to his office and later invited Tijan Jallow, adding that he led them to the office of the 2nd accused.
"Tijan Jallow narrated that Ousman Jatta had forcefully obtained money from him in the sum of D10,000, and went round using the name of the 2nd accused person," the witness continued, adding that Ousman Jatta had denied that.
He further stated that the 2nd accused warned Ousman Jatta to stop using his name, adding that an ambush was laid at Bond Road in Banjul, where Ousman Jatta's boys were arrested and D150,000 was recovered from them, which was alleged to have been obtained from Tijan Jallow.
Still testifying, DW2 adduced that he advised Tijan Jallow to report the matter to the police, but Ousman pleaded with him, and said that he wished to talk to Tijan Jallow secretly.
"During the discussion, I heard Ousman Jatta telling Tijan that he could not ignore this case, and later promised Tijan that he (Ousman Jatta) would give a plot of land and money to Tijan Jallow," the witness  continued.
Still in his defence, Sanneh told the court that Tijan Jallow was never arrested, because he was the complainant in the said matter.
He added that at the time Ousma Jatta was giving evidence in court, his wife was in the custody of the NDEA.
"Ousman Jatta is now serving a seven-year jail term at the State central prison for drugs-related offences," he said.
The case continues tomorrow.
Read Other Articles In Article (Archive)