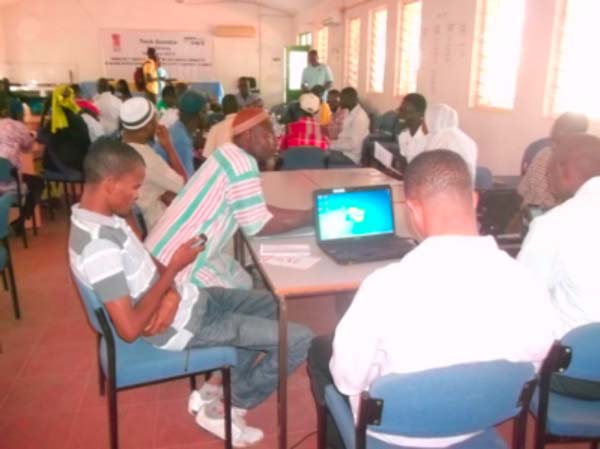 Joseph Gomez, project manager for Better Tech Gambia for civil society organizations and medium scale medium enterprises, has said building the capacities of CSOs and MSMEs is key in sustainable development in the country.
Gomez was speaking in an interview with The Point at the training centre held at the regional education directorate in Basse, Upper River Region.
According to him, the project aims to build the capacities of CSOs and MSMEs to help showcase and market their programmes and activities, while networking and communicating with partners for the advancement of the CSOs and MESMEs.
He said the project has three main components namely, increased online presence of CSOs and MEMEs using the social media and the website to reach out to audiences and potentials partners.
He said one of the reasons for organizing a such a training activity is to fill the IT capacity gap for CSOs and MSMEs with hands on training in ICT, thus fostering networks between CSOs, MSMEs and IT/ICT professionals.
Gomez added that the process began with an advertisement in the mass media calling for applications for interested CSOs and MSMEs to be part of the training session, from 23rd -25th February this year.
Ismaila Jarjue, programme coordinator Concern Universal for Gambia and Senegal, said the purpose of the training course (TechCamp) is to provide IT/ICT technical support to CSOs and MSMEs to be aware of what they are doing in terms of skills and expertise, as well as products to be displayed in social media, websites and the internet for possible market links and to attract potential partners.
According to him, preliminary baseline data collection results revealed that there are huge ICT gap for CSOs and MSMEs in terms of the internet, which prompted the designing of such an important project trying to address the ICT/IT capacity gaps for CSOs and MSMEs in the country.
The project has put together IT experts and service providers to train the participants on the basics to be able to function at their various levels.
Jainaba Sanneh, a participant representing the Red Cross, on behalf of the participants commended Concern Universal for the foresight, adding that the project is timely and welcomed, and assured the organizers of their full cooperation in the implementation of the project.
Read Other Articles In Article (Archive)