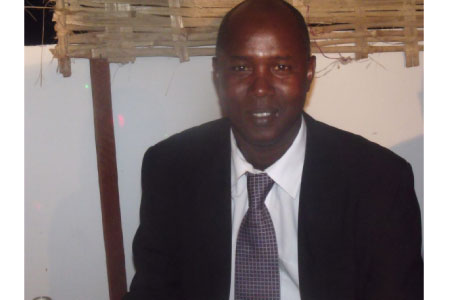 Mamud Max Jallow, pioneer of the popular Brufut Marathon Run, has appealed to the general public to help him in his quest for a successful participation in this year's race as he sets his sight in raising an amount of £350 for his participation in the annual marathon due to take place on 17 December 2011.
In a brief chat with Pointsports in his office yesterday morning, Max Jallow, who recently returned home from the UK where he underwent sports studies, has also vowed to take part in a 10km run. He used the platform to call on the general public to join the race.
The 10km race will start from the Palma Rima Hotel to Brufut Lower Basic School and the Half Marathon of 21km will start at St.Charlswanga Church at Fajikunda, Pointsport can confirm.
Jalllow said his desire is to raise £350 in his bid to sponsor a grade 10 student at Brufut Scan-Aid Senior Secondary School who is encountering some financial difficulties to continue his schooling.
He also calls on other participants to run for good cause to support community projects in the society while expressing sincere appreciation to Mr Saikou Jaiteh and David Smith in the UK for supporting his participation.
"I will not be targeting first position or glory in my race but I can also assure you that I will not finish at the bottom end of the race," he boasted as he repeatedly appeals to the general public to join him in his race to raise the profile of the marathon, which is becoming increasingly popular by the years.
"I would also like to seize this opportunity to appeal to the private sector and the Gambia Government to support Brufut Marathon Association in its quest to achieve its objective," he said.
"This year's event will witness the arrival of participants from the UK, Holland, Senegal and Kenya and beautiful prizes await the winners in various categories," says Max, who also showered praises on the Friends of the Gambia Association for what he called their continual support in ensuring the event is sustained with much improvement this time.
Jallow also reserved special thanks and appreciation for the people of Brufut for what he referred to as their morale support and commitment as he commend the Brufut Marathon Association members for their dedication and commitment for their valuable role in trying to sustain the event.
Read Other Articles In Article (Archive)