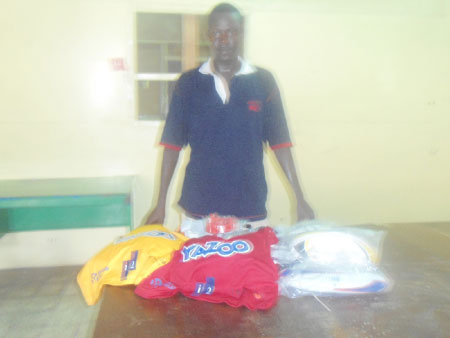 A British Philanthropist in the name of Noelin Ambruse, recently donated Rugby materials to a Gambian Rugby club Rhinos Rugby club of Bundung.
The donated items ranging from 10 rugby balls, 50 pieces of Mouth guards, 2 pressure Gange Pumb, 2 kicking tee, 14, shocks, 2 sets of yazoo jerseys and 2 sets of tag belt according to the Rhinos Rugby club president is part of Mrs Ambruse's effort of promoting rugby in the Gambia.
Ambruse have been working with Rhinos Rugby club of the Gambia for quite a long time and is a regular visitor to our training grounds whenever she is in the Gambia, says Ngange Demba Sarr, president of Rhinos Rugby club who also hailed Ambruse's initiative as loudable and timely.
Sarr went on to say that the materials would go a long way in trying to help motivate the Rugby players within the club.
"I am more than delighted after receiving these valuable Rugby items from our donor who have been very supportive to Rhinos Rugby club over the years and I want to assure her on behalf of Rhinos Rugby club that the materials presented to us would be used for its intended purpose for the progress of Rugby in the Gambia.
Read Other Articles In Article (Archive)