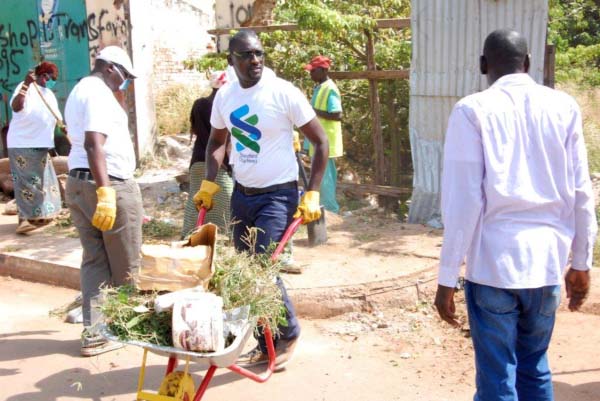 Standard Chartered Bank over the weekend enhanced the capacity of Banjul City Council with cleansing materials worth D50,000 aimed at improving the cleanliness of the streets of the capital city.
The donation was presented during a cleansing exercise organized by the bank in collaboration with the BCC held along Ecowas Avenue in Banjul.
The items included dozens of rakes, spades, masks, gloves, hard brooms and shovels and six wheelbarrows.
Head of Wholesale Banking, SCB Gambia ltd, Bai Mass Saine, said their presence at the cleansing exercise symbolized the essence of what they stand for as a bank - to be committed to the communities in which their staff live and work.
According to him, they look at ways to minimize their direct impact on the environment, while setting stringent targets for reducing their consumption of energy, air travel, water and paper.
As an international bank operating in The Gambia, Saine said, they recognized the key role to play in ensuring that the environment is protected and clean.
He described their relationship with the BCC as cordial.
As many as 25 employees of the SC bank participated in the exercise, and Saine said over the years they have maintained their commitment to building a sustainable business, simultaneously creating value for their shareholders, supporting their customers and contributing to the communities where they live and work.
BCC public relations officer Sandigie Njie thanked the bank for the gesture, and promised to use the materials properly in executing their duties to ensure the city is clean.
The exercise was geared towards environmental sanitation, Njie said, adding that they want to ensure that the city is free from litter.
The materials given would help in doing so, he said, and called on other banks to emulate SCB in all sectors for the development of the city.
Read Other Articles In Article (Archive)