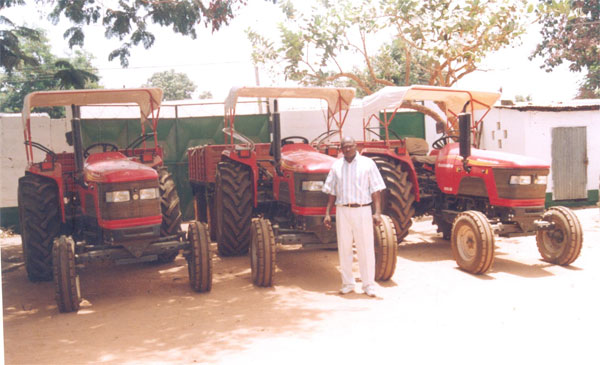 The Brikama Area Council recently purchased three tractors and two station wagons at a tune of D3, 151.425 for the cleansing services unit of the council.
Speaking in an interview with the Chairman, Mr. Sunkuru Badjie said when he assumed responsibility as the chairman of BAC, he realised that cleansing service was one of the shortcomings confronting the council. Consequent upon this, he said, he was resolved to make sure that the council does everything humanly possible to ensure that the problem is adequately addressed, hence these vehicles are procured.
According to him, the only way to address the issue was to procure more vehicles, and with the advent of modernization of the service, things become increasingly difficult.
"We feel very much motivated to purchase these tractors," he stated. He said his councilors and staff all did very well to ensure that their aims and objectives are achieved.
He maintained that "the council purchased these three, tractors and two station wagons with the aim of increasing their activities, and also to ease the burden of their cleansing services", which he said, is paramount.
"I can now speak at the top of my voice to say the problem of cleansing service is almost over," an elated Chairman Badjie added.
According to him, the tractors would be circulated within Brikama and Wellingara, which he said, "is their biggest problem".  But he noted that with the advent of these new tractors, the war (battle of cleansing services) is over.
Mr. Badjie further expressed delight, and then called on the full co-operation of the citizenry. As he put it "Government alone or individual cannot do all, but with the participation of all we'll forge ahead."
The BAC boss assured the taxpayers that every single butut spent would be ploughed back to them in the form of services and development projects.
Read Other Articles In Article (Archive)