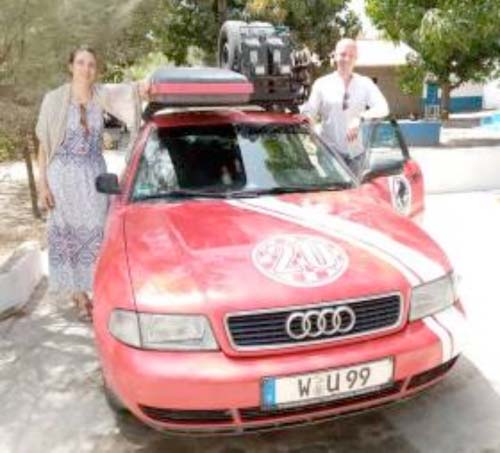 A Germany couple recently arrived in The Gambia with a motor car that they drove across the Sahara Desert to support the Bottrop project. They are Bottrop Germany to Bottrop The Gambia challengers who booked to take up the challenge to drive from Germany to Banjul in support of the Bottrop project.

The rally "Bottrop to Bottrop" is organised by Dominik Saubke and wife Jana Koppe which is held for the first time in the history of the Bottrop project.
The couple drove in a small but steady car that took-off from Germany on February through Africa with the focus to support children to have a better holistic foundation and to participate in the 35 years anniversary of the project.
Mr. Saubke said they drove from Germany through France, Spain and then through the Sahara Desert via Morocco, Mauritania and to Dakar in Senegal before arriving in The Gambia.
He said they were able to manage an average stage of 9,600km per day, excluding border crossings and other stops.
His wife Jana Koppe said the challenge is an interesting and unique experience that accorded them the opportunity to meet people from different culture, language and mentality. The couple commended the people of The Gambia for the warm and smiling welcome accorded to them.
The couple's sole intention was to participate in the thirty-fifth anniversary of the Bottrop project which has failed due to the suspension of all social gathering in the wake of the coronavirus pandemic. They said it is unfortunate that the anniversary will not go ahead but they feel very safe in The Gambia as the people are friendly.
They advised people to take the coronavirus seriously and follow the instructions given by the government, the Health Ministry and the World Health Organisation.
The Bottrop project country representative, Pa Aruna Jagana, said the concept of the project was conceived in 1985 to strengthen partnership in the education sector, health and environment, among others, through the efforts of German nationals led by Wolfgang Gerrits and Gunter Schmitter.
He said the two men with the collaboration of some committed Gambians such as the than chairman, Alh. Dembo Jatta and Alh. Sanjally Bojang who provided land for Bottrop Kindergarten and Bottrop Technical Senior Secondary School.
He commended the couple for their commitment and the love they have for Gambian children
Read Other Articles In Article (Archive)