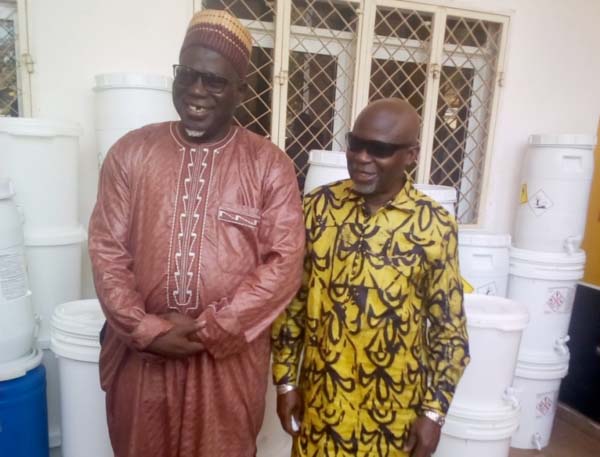 Majority leader of the National Assembly and member of Kombo South, Kebba K. Barrow last Thursday handed over 22 hand washing drums to the secretary general and leader of the United Democratic Party (UDP) at a presentation held at Mr. Darboe's office in Pipeline.

The gesture is in response to UDP leader's call for everyone in The Gambia to stand by the government in its fight against the spread of covid-19 pandemic in the country.
The drums were on Friday distributed to health centers, market places and fish landing sites in Kombo South in partnership with regional health directorate in Brikama.
The majority leader said the gesture is meant to ensure that people of his constituency are empowered to prevent the spread of the virus.
He said at the level of the National Assembly they have suspend all their sessions to ensure that they go back to their electorates and talk to them about the seriousness of the pandemic in partnership with the Ministry of Health.
United Democratic Party leader, Ousainou Darboe expressed delight for Mr Barrow's support in response to his call. He said political leaders have to put their words into action to show Gambians seriousness in what they say.
"We should not just stop at advocating but take measures to ensure what we preach is translated into real action," he said, adding that the hand washing drums will certainly help in curbing the spread of the virus.
"We cannot pride ourselves as a nation if we are not helping," he said. "We can hardly carry out any meaningful activity as a nation when our health is in jeopardy."
He thanked Hon. Barrow on behalf of UDP for his initiative, saying he hope other leaders will follow.
The UDP leader appealed to the public to heed to the advice of WHO to ensure that the virus is contained.
Read Other Articles In Article (Archive)