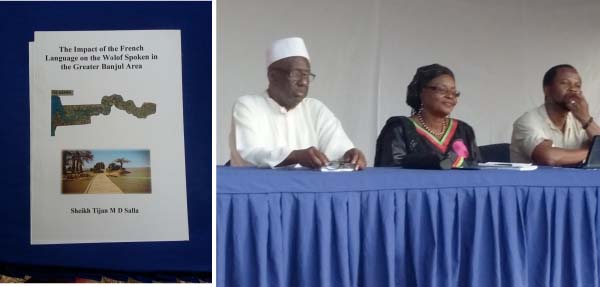 A book entitled 'The impact of the French Language on the Wolof spoken in the Greater Banjul Area' written by Sheikh Tijan MD Sallah was recently launched at the Alliance Franco Gambienne.
The chief launcher, Juka Jabang, said the book makes available information that enhances people's knowledge of history, social linguistics and commerce of the Greater Banjul Area in particular and The Gambia at large.
"I recommend the book to the general public to increase their awareness of how our lingua-franca has evolved," she said. "I also recommend it to historians, linguists, teachers, etc.I believe they will find the book an asset."
Abdou Kareem Kamara of the University of The Gambia, representing Prof. Pierre Gomez, reviewer of the book, said the 143-page book contains Wolof words used in the Greater Banjul Area which have origin from French language.
According to the review, the book contains 26 chapters which are all developed around real life situations and it offers elucidatory notes on the influences of French language on the Wolof in the Greater Banjul Area.
Mr Kamara quoted excerpt from chapter 1 of the book which reads:"When we woke up in the morning from our comfortable 'Mattla' and clean up the 'Darab', we wrapped our clean 'Sarbet' around us, took our 'Siyo ndoh' enter the 'Dussh' to have our bath.After our bath, we went to the 'Arrmor' or 'Wulis' and took out our clean 'Simis' and 'Pantalon'that we have 'Passeh' with our 'ferrr', we then put on our 'Dalla', Montorr', 'Lunette', and then put the 'Musuwar' in our 'Pauss' before heading out for our daily routine."
The university lecturer said 30 per cent of the words quoted in the above excerpt are all French words which today become part of mainstream Wolof.
Alhaji Ebou Taal, former Gambian ambassador, said the book is a light read and very digestive.
"I consider Mr Tijan a scholar and linguist from a humble distinguished family. I praise him for his great literary work which will go a long way in contributing towards the Gambian literature," he said.
The career diplomat launched a challenge urging Gambians to write their own memoir and history while also saying that Gambians should be interested in books written by fellow countrymen.
Hassoum Ceesay, a renowned Gambian history, said the book is significant because it is one way to assert independence in the creation and generation of knowledge in The Gambia.
"We see Mr Sallah's work as groundbreaking in that the issue of linguistics, grammar and history is deeply rooted in the book," he said. 
Read Other Articles In Article (Archive)