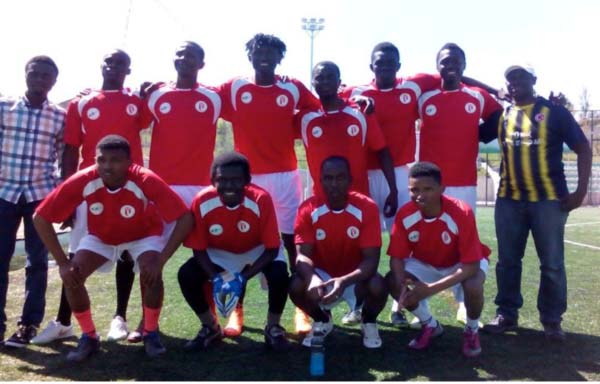 A team of Tajikistan students in Ankara, Turkey, has defeated their Gambian counterparts 3-0 in the ongoing International Students' World Cup Tournament 2016, in Ankara.
Both teams played well and displayed wonderful skills on the pitch but the Tajikistan students eventually outperformed the Gambians.
Haydarali Sayfidina netted the first goal for Tajikistan at the last minutes of the first-half.
The leading team came from the dressing room in the second half more eager to consolidate their position.
Eventually, Bedil Rahimou scored the second and third goals for Tajikistan.
In a post-match interview, Haydarali Sayfidina, captain of the victors, said that in spite of their victory, the Gambian team was "definitely very tough; the defence line was quite hard to penetrate".
"We feel very proud of winning this game because every game is very crucial match for us; that is why we do not underrate any team," the Tajikistan captain said.
Analysts said the Tajikistan team capitilised on the lack of better coordination among Gambian footballers.
Ousman Bah, a Gambian fan, said: "Our opponents were able to capitalise on the available chances to earn their victory because there was lack of proper coordination in the game for my team."
However, the Gambian team captain, Modou Beyai, said performance-wise, "the game was not very bad".
However, he said they will endeavour to buckle up next time to move further.
Abdou A. Manneh, also a Gambian fan, applauded the team for their efforts on the pitch but said the team's defeat was as "a result of miscommunication and over-confidence among the footballers".
The International Students' World Cup Tournament 2016 is organised by Turkish Prime Abroad and Related Communities Directorate.
The aim of the tournament is to foster mutual understanding and togetherness among international students residing in Turkey. 
Read Other Articles In Article (Archive)