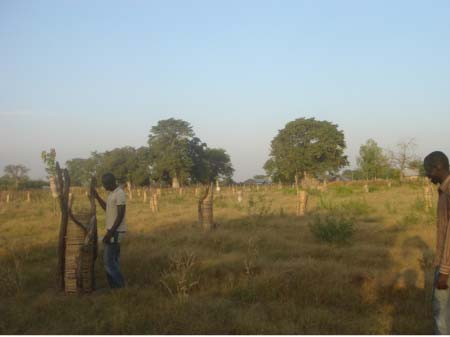 Members of Beakanyang Kafo alongside some of their partners recently embarked on a two-day monitoring visit to their environment project intervention communities in Wuli West District, URR.
The tour began in Barrow Kunda and took the officials to Jah Kunda, Chamoi Bunda, Draman, Limbambulu Yamadou and Gunjur Kuta.
Speaking at various sites, Beakanyang secretary general Nfamara Jawneh said the six communities visited benefited from their Global Environment Facility Small Grant Program- funding initiative.
He disclosed that the 12-month project will phase out on 31 December 2013, adding that the tour formed part of their monitoring and evaluation mechanisms to access the performance of the project.
According to him, the project, known as mitigating the effects of climate change at grassroots level, is about to phase out but the progress registered, if sustained, would have a lasting impact on the lives of the beneficiary communities.
Speaking to reporters at the end of the tour, Mr Jawneh expressed satisfaction with the success registered, which he attributed to the hard work of the communities.
He disclosed that earlier this year the project planted five thousand trees in the intervention communities and was happy the trees are doing very well.
He however expressed disappointment at the contractor given the contract to dig the wells, for failing to deliver on time.
"It is good that one of the wells has been completed on time but the other one is yet to be completed though nearing completion," he remarked.
Mr Jawneh gave the contractor - Nema Construction Company of Basse Mansajang Kunda - two weeks to hand over the project or face the full force of the law for breach of contract.
He urged the communities to ensure the trees are protected from animals and fire, while recommending their continued support and watering as recommended by experts in the delegation.
Speaking at various sites, Sisawo Sabally of the regional forestry office in Basse, hailed the youth group for complementing the efforts of his department.
He said the work done by the Kafo was very good and worthy of emulation by other people in the area, to keep planting more trees and take proper care of the ones provided by Beakanyang.
He added: "My office has been fully involved in this project and we appreciate the work of the group in the region."
Meanwhile, various community speakers, such as Alhagie Arafang Sanuwo of Jah Kunda VDC, Sarjo Bamma of Barrow Kunda VDC, and Alhagie Fatty of Limbambulu praised Beakanyang for providing them with the environmental project.
Read Other Articles In Article (Archive)